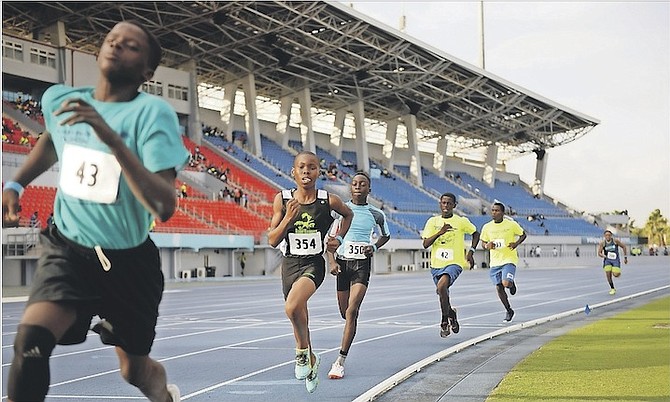 SHYANNE Demeritte, Sherinique Sears, D'Arjha Davis, Doneisha Anderson, V'Alonee Robinson, Aiden Curry, Darius Pratt and Daniel Ermilus were double winners at the Odd Distance Track Meet over the weekend.
The meet kicked off the Bahamas Association of Athletic Associations' 2017 season at Thomas A Robinson National Stadium.
In the under-8 girls' division, Soraya Wells from Club Monica won the 60m in 8.88, followed by Beginners Track Club teammates J'Kaiyah Rolle (9.06) and Jasmine Thompson (9.35).
Rolle, however, turned the tables in the 150m, winning in 24.28 with Wells taking second in 24.79 and Star Trackers' Danielle Whylly coming in third in 25.28.
Shyanne Demeritte from Club Monica doubled up in the girls' under-10 division. She won the 80m in 7.85 ahead of Beginners' Iesha Hanna (8.16) and Hurry Murray Athletics' Stacyann Humes (8.30). Demeritte also won the 150m in 21.16 with Hanna second in 22.47 and Ava Taylor from Dtsp Wolfpack third in 23.10.
Sherinique Sears of the Roadrunners was also a double winner in the under-10 girls' division. She won the 80m in 10.91 with teammate Alyssa Feerguson (10.97) second and Swift Athletics' Chimija Skippings third in 11.25. Sears also won the 150 in 20.22 with Ferguson (20.60) second and Wolfpack's Karis Taylor (20.82) third.
Club Monica's D'Arjha Davis got a pair of victories in the under-14 girls' division after she won the 80m in 10.60, followed by Wolfpack's April Adderley (10.63) and Rocks Athletics' Leniqua Black (10.72). Davis also won the 150m in 18.79, while Star Trackers' Anthaya Charlton (18.85) second and Sun Blazers' Paige Stuart (19.16) third.
Charlton won the long jump with 4.94m over Black (4.46m) and Star Trackers' Tanisha Floyd (4.36m). However, Star Trackers' Reshae Dean won the 300m in 42.19 with Charlton (42.47) second and Stuart (44.00) third.
The under-16 girls division saw a split of the events with Jaida Knowles of the Star Trackers winning the 150m in 17.97 over Club Monica's Megan Moss (17.91) and Galaxy Invader's Wendira Moss (18.01). Megan Moss won the 300m (39.19) with Wendira Moss (39.50) second and Knowles (40.47) third.
Maya Miller of the Ambassador Athletics' took the victory in the 500m in 1:25.03 with Vandera Knowles of the Roadrunners (1:32.44) second and Lovena Camille 1:32.60) third. Akaya KLightbourne of Neymour Athletics won the 1,000m in 3:20.85 with Indea Cartwright of Sun Blazers (3:21.65) second and Deshante Forbes of Bahamas High Performance (3:45.12) third.
Leap of Faith's Amina Forbes won the high jump with 5m over Hiltranique Pinder of Rocks Athletics with more knockdowns at the same height.
Doneisha Anderson was a double winner in the under-18 division. The TWD Athletics competitor won the 300m in 39.50 over Wolfpack's Tyler Gray (40.32) and Star Trackers' Tenae Miller (40.91). Anderson won also the 600m in 1:40.18 with Sun Blazers' Gabrielle Gibson (1:44.22) second and TWD Athletics' Chanice Forbes (1:47.81) third.
Miller won the 150m in 17.75 with Star Trackers' Catalyn Blayre (18.19) second and Club Monica's Sasha Wells (18.25) third.
Jasonique Moss of Quick Step won the 1,000m in 4:03.31.
In the open women division, V'Alonee Robinson posted a double win in the 150m in 18.28 over Ashonique Sands (19.63) from Silver Lightning and she did 42.69 in the 300m over Bahamas High Performance's Alicia Morris (45.63) and Tia Thompson (49.66).
Raygene Minus of Bahamas High Performance won the 600m in 1:58.78.
University of Bahamas' Beyonce Scott won the high jump with a leap of 5.10m over Sands (5m).
On the boys' side, Aiden Curry got a double victory in the under-8 division, winning the 60m in 8.66. The Club Monica competitor won over Hurry Murray's Anthony Saunders (8.97) and Sun Blazers' Simon Sands (9.10). Curry also won the 150m in 23.84 with Star Trackers' Joshua Minus (24.18) and Kayden Ingraham (24.44) third.
Beginners Track Club's Darius Pratt won the double in the under-10 division. He took the 80m in 7.60 over Star Trackers' Josiah Lockhart (7.85) and Beginners' Trent Ford (7.97).
Pratt's other win in the 150m in 20.44 over Rocks Athletics' Tyrone Conliffe (20.85) and Ford (21.41) in second and third respectively.
Daniel Ermilus of the Roadrunners won the under-12 80m in 10.47 with Swift Athletics' Carlos Brown (10.53) second and Star Trackers' Benjamin Sherman (10.88) third. Ermilus also won the 150m in 19.06 with Brown (19.56) second and Club Monica's Mala Butterfield (20.03) third.
In the under-14 division, Otto Laing doubled as he took the tape in the 150m in 17.63 followed by Wolfpack's Elkan Johnson (17.91) and Star Trackers' Terrance Deveaux (18.56).
Johnson won the 80m in 10.00 with Another Level's Kamran Clarke (10.21) second and Deveaux (10.35) third.
The under-16 division had three different winners.
Club Monica's Adrian Curry won the 150m in 16.16 with Wolfpack's Gareth Lewis (16.82) second and Moores Island Track's Emrick Hield (17.32) third.
Hield was the winner of the 300m in 36.16 with Curry (36.32) second and Jumpers Inc.'s Symillian Loroda (36.44) third. High Performance's Omavi Collison won the 500m in 1:09.10 with Hurry Murray's Donovan Rolle (1:10.81) second and Moores Island's Deshawn McKinney (1:14.76) third. Devontae Newbold (2:52.06) won the 1,000m with Rocks Athletics' Clathon Henfield (2:55.66) was second and Rolle (2:56.94) was third.
The events were also split in the under-18 division.
Club Monica's Denvaughn Whymms won the 150m in 15.56 with Swift Athletics' Karon Dean (15.79) was second and Max Azor (15.85) got third in 15.85.
High Performance's Branson Rolle won the 300m in 34.63 with Swift Athletics' Karon Dean (34.72) second and Azor (35.50) third.
Phoenix Track Club's Edward Munroe won the 600m in 1:21.12 with Swift Athletics' Mookie Rolle (1:23.62) second and Quick Step's Odson Delia (1:27.75) third.
Delia won the 1,000m in 2:37.85, followed by Phoenix's Edward Munroe (2:49.63) and Roadrunners' Dennis Whymns (3:05.76) third.
X-Treme Athletics' Christoph Johnson had least knockdowns over teammate Kyle Alcine and Benjamin Clarke, who finished in first, second and third respectively in the high jump.
And Rickey Moxey Athletics Club's Keiron Brown won the long jump with 6.10m over Rocks Athletics' Latrell Taylor (5.30m) second.
And in the open division, there were a number of winners as well.
Star Trackers' Tavonte Mott won the 150m in 15.56 with Club Monica's Ian Kerr (15.76) second and Jumpers Inc.'s Tamar Greene (16.03) third. Anthony Adderley won the 300m in 33.77 with Mott (35.28) second and Kerr (35.66) third.
TWD Athletics' James Carey won the 600m in 1:25.44 with Quick Step's Rotario Adderley (1:26.32) second and Phoenix's Kendron Adderley (1:31.53) was third. Adderley won the 1,000m in 2:43.25 with T-Bird Flyers' Charles Butler (2:47.22) second and Quick Step's Brandon Bastian (2:49.00) third.
On the field, Jyles Etienne won the high jump over University of the Bahamas' Stony Duncanson and in the triple jump, Jumpers Ic. Dominated as Tamar Greene won over teammates Georgio Pratt and Ronald Ferguson.