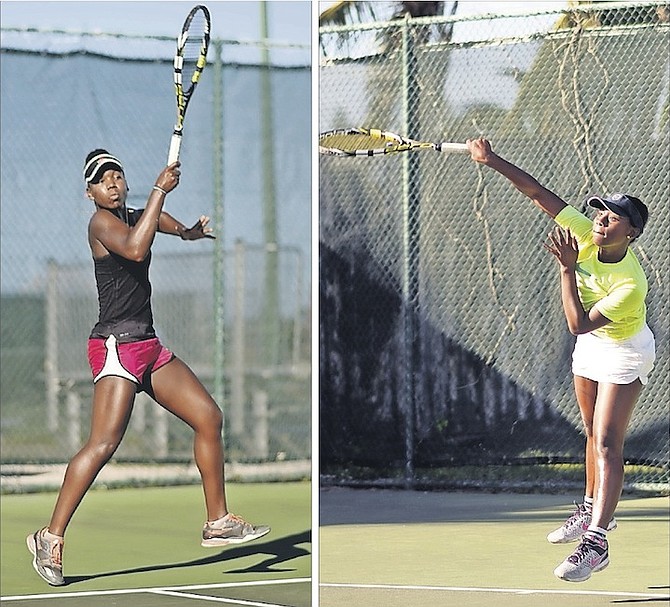 By BRENT STUBBS
Senior Sports Reporter
bstubbs@tribunemedia.net
Iesha Shepherd and Sydney Clarke will hook up in the much anticipated showdown for the ladies' title today as the Bahamas Lawn Tennis Association's 2016 Giorgio Baldacci National Open Challenge comes to a close.
Shepherd, the defending champion and the top seed, will take on No.2 seed Clarke in the final, starting at 9am.
While 17-year-old Shepherd earned her berth to the final with a 6-4, 6-3 win over Elana Mackey, 15-year-old Clarke held off Sierra Donaldson 7-5, 6-2.
"I expect it to be a very competitive match," said Shepherd, who has never lost a match to Mackey. "She plays with a lot of consistency, so I have to make up my mind to move and change up the pace and hopefully I can be successful."
Clarke, a 10th grade student at CR Walker Secondary High, said she's not going to be deterred by Shepherd's success.
"It's going to be a good match, so hopefully I can pull off the win. She's a good player," Clarke said. "I just have to go for my shots and not be afraid to hit."
Despite the loss, 15-year-old Mackey and Donaldson, 16, will join Shepherd and Clarke in making up the team that is expected to travel to the Fed Cup in July.
"I would love to go out and experience playing against players that are much more experienced than myself," Mackey stressed. "Hopefully I can rise my game up to their level if I get a chance to play."
As a returning player, Donaldson said she feel they have a good crop of young players on the team and they can only get better with the experience gained.
"I know we need a lot of work. This will be my third time going, but the competition is very hard," she pointed out. "So we will have to give up a lot of our energy and time when we go."
Here's a summary of the pair of semifinal matches played in the ladies division:
Shepherd over Mackey
The first set got of to an interesting start as Mackey broke Shepherd to snatch the early 1-0 lead. But that was short lived as Shepherd eventually returned the favor to pull even at 2-2.
They remained close as they held serve until Shepherd got another break to seal the first set.
In the second set, Shepherd got the early lead and led 2-1 and after they held with Shepherd leading 5-3, Mackey was broken for the final time as the exciting match came to an end.
"The match was a roller coaster ride. One minute you are up and the next minute you are down, but hi, I thank God, I did what I had to do to win," Shepherd said.
"I was impressed with the way she (Mackey) played. She really improved over the years. So it's good to come back home and finally get some competition after I normally beat everybody love, so it's good. I love the match play and to see how the girls are all improving."
For Mackey, it was a great experience getting the exposure playing in the tournament. She just felt that was a victim of a more experienced Shepherd.
"It was good. I think I tried my best," she stated. "But I couldn't pull of the win. I think I still played very well," Mackey stated. "Maybe she was a little bit better. She was moving me around the court and I couldn't execute my shots as much as I should have."
Clarke over Donaldson
After she got broken in the first set of the first set, Clarke responded by turning the tables to even the score at 1-1.
Donaldson once again got a break to go up 4-3, but that was short lived as Clarke bounced back to break for another 4-4 tie.
They both held serve until Clarke got the biggest break of all to secure the first set.
Then in the second set, Clarke broke early for a 2-0 lead, only to watch as Donaldson broke for a 2-1 deficit.
The difference in the match came in the sixth game when Clarke got the final break to go up 4-2 and they both served out the set.
"I made a lot of errors, but overall I played good," Clarke said. "All I had to do was keep the ball in play and move my opponent around and don't make the mistakes, but I gave up a lot of easy points."
Donaldson admitted that she gave it her best shot.
"I tried my best, but in the second set, I felt I could have played harder to make her play," she reflected. "But overall, I think I played my best. I made my shots."