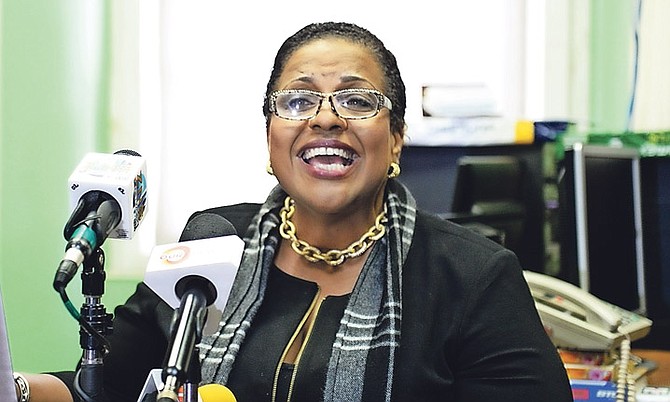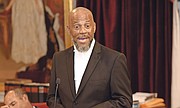 By AVA TURNQUEST
Tribune Chief Reporter
aturnquest@tribunemedia.net
OFFICIAL Opposition Leader Loretta Butler-Turner sought to establish clear boundaries on the type of conduct she expects from her new parliamentary caucus in a public apology yesterday for the "inappropriate and insensitive comments" made by Senator Rodney Moncur towards a Tribune reporter.
However, she defended the controversial talk show host's right to free speech and expression.
Her remarks came in a statement released two days after Mr Moncur became combative and aggressive with Tribune Deputy Chief Reporter Khrisna Virgil, after the journalist questioned Mrs Butler-Turner about Mr Moncur's opposition to a 2009 Marital Rape Bill.
Among a string of outbursts, Mr Moncur told Ms Virgil that as a 60-year-old married man, he could "climb on top" of his wife whenever he pleased.
He also shouted that Ms Virgil was "dangerous," adding "you must know how to frame your questions before you come to me."

Mrs Butler-Turner asserted that her parliamentary team will "in no uncertain terms" refrain from berating, insulting or antagonising the public or the media under any circumstance, and endeavour to express themselves in a manner that does not offend others. She urged members to remember to remain approachable and responsive to these groups, and to respect their views, notwithstanding their personal expectations that this tolerance be reciprocal.
The confrontation between Mr Moncur and Ms Virgil occurred shortly after he had been sworn in as an opposition senator, appointed by Mrs Butler-Turner.
For her part, Mrs Butler-Turner extended "the sincerest of unreserved apologies" to Ms Virgil, but made it clear that she will continue to both defend Mr Moncur's right to free speech and extol his work as a longtime defender of the socially and economically disfranchised.
She said the apology came after days of reflection over the significance of a public figure's ability to balance their right to free speech against "universally accepted standards of decency and courteousness to others."
"Senator Moncur is entitled to express his own views on issues in accordance with his constitutional right to freedom of expression," Mrs Butler-Turner's statement said.
"Indeed, I am a firm believer that diversity of opinion, reflecting the concerns and viewpoints of a broad cross-section of Bahamian society, is precisely what is needed in our politics today."
She continued: "I will continue to defend Senator Moncur's right to free speech and extol his work as a longtime defender of the socially and economically disfranchised.
"At the same time, I assert in no uncertain terms that whatever their personal views, members of our parliamentary team will refrain from berating, insulting or antagonising members of the public or journalists under any circumstance.
"They will also seek to express their own views in a manner that, as far as possible, does not offend others," she said.

In yesterday's apology, Mrs Butler-Turner reaffirmed that it was the Official Opposition's intention to fight the governing Progressive Liberal Party government with vigour in 2017.

She continued: "We must remember to remain approachable and responsive to both the press and members of the public. Most importantly, we must be respectful of the views of others, even as we expect them to be tolerant of ours.
"Once again, I apologise unreservedly to Ms Virgil, whom I have always known to be a diligent, proficient and honest representative of the media, and to those offended by Senator Moncur's remarks."
Criticism
Mr Moncur has not been shy in vocalising his conservative and anti-feminist views, which led many to question and criticise Mrs Butler-Turner's decision to appoint the community activist and justice of the peace to the Upper Chamber.
Both Senate Leader of Opposition Business Branville McCartney and Mr Moncur were opposed to the Marital Rape Bill, which Mrs Butler-Turner tabled in Parliament in 2009. Both men also rejected the gender equality referendum, albeit for different stated reasons.
In an op-ed published in The Bahamas Weekly this week, women's rights activist and director of Hollaback Bahamas Alicia Wallace characterised those two Senate appointments as the final blow to Mrs Butler-Turner's most ardent supporters - women and supporters of women's rights.
Mrs Wallace posited that diversity and inclusion did not have to come at the cost of dismissing marginalised communities, and that such an exchange for political expediency was rooted in self-interest and poor judgment.
"For a brief time," Ms Wallace wrote, "women, feminists, and supporters of women's rights looked forward to potential benefits of a woman breaking precedent and having the power to influence the national agenda or, at the very least, using a powerful platform to give voice and visibility to underemphasized concerns. This, unfortunately, has not come to fruition; instead, widespread disappointment, shock, and anger are the results of Butler-Turner's first move as leader of the opposition in Parliament."
She continued: "Following the gender equality referendum which resulted in the death of four constitutional amendment bills, Bahamian women have been waiting for a win. Even people who do not support the FNM wanted to see Butler-Turner emerge victorious. Her withdrawal from the FNM leadership race was disheartening and, for many, unforgivable. Still, when the shock wore off, people were ready to rally behind her again, prepared to support a woman with the belief that she would reflect them — their needs, values, and beliefs."
Ms Wallace is the co-founder of the Coalition to End Gender-based Violence & Discrimination, serves as the youth ambassador for The Bahamas to End Sexual Violence, and is one of 60 recipients of the 2015 Queen's Young Leaders Award.
"Must we rid ourselves of the PLP at the expense of women?" Ms Wallace questioned. "Is the impact of such people spewing patriarchal misogynist rhetoric and seeding the idea that women are subhuman being severely underestimated? Can we recover from the long-term impact their voices, in positions of power, will have on Bahamian society?"