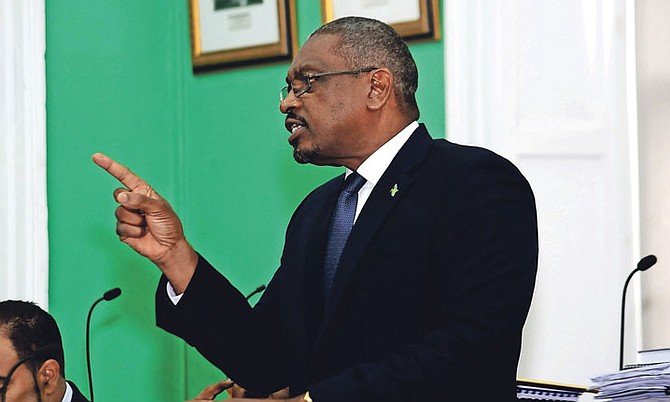 By SANCHESKA DORSETT
Tribune Staff Reporter
sdorsett@tribunemedia.net
FREE National Movement Leader Dr Hubert Minnis said yesterday that his party will "privatise carnival" and invest the country's money into Junkanoo and other cultural events if elected in the next general election.
In an interview with The Tribune, Dr Minnis said the FNM will not cancel the controversial event but rather "take it out of the hands of the government" and turn it over to the private sector. He said he will focus on "advancing our own identity" and letting someone else "throw a big party".
Dr Minnis said the millions wasted on Bahamas Junkanoo Carnival could be utilised to increase the seed money and prizes offered for the Boxing Day and New Year's Day Junkanoo parades.
Since its roll out in 2015, Bahamas Junkanoo Carnival has faced backlash from critics about the amount spent on the festival compared to the financial return. Some have also accused the government of adopting other countries' culture, instead of investing more funding into the Bahamas' premier cultural event, Junkanoo.
In September, the Bahamas National Festival Commission (BNFC) revealed that the total cost for the 2016 Junkanoo Carnival was $9.8m with a government subsidy of $8.1m.
Last year, the government spent $11.3m on the inaugural festival, going over its initial budget of $9m, with the total cost of the first carnival $12.9m, with the rest covered by sponsors.
"We will have a Ministry of Culture so we can look at our culture and what Bahamians are capable of doing, including with our own music industry," Dr Minnis said.
"We will ensure we have incentivised grants to make our own cultural experience one that will be envied not only in the Caribbean but all over the world. There will be a complete cultural explosion under the FNM. The FNM will not just look at Junkanoo in its isolation it will be a part of the explosion.
"We will ensure that new Bahamian entrepreneurs will be brought forth into this Bahamas and take part in this new cultural explosion. We will ensure that the knowledge that the young people have and the skill will be showcased. When the world sees Junkanoo, they will know it is the Bahamas. We will privatise carnival; it is not ours and the government does not need to be funding it. It will be someone else's party to throw. Our money will be invested in something that is our own."
The government has been highly criticised for hosting the event and not making a profit.
Earlier this year, BNFC Chairman Paul Major said the festival has never been and will never be about turning a profit on investment, contending that no variation of the event hosted around the world has generated a profit for the host nation.
He said the success of the festival must be measured by the thousands of persons that benefit from the event indirectly.