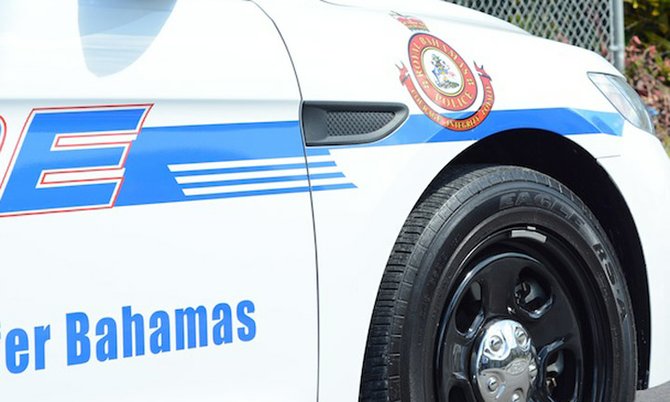 By SANCHESKA DORSETT
Tribune Staff Reporter
sdorsett@tribunemedia.net
CHIEF Superintendent Clayton Fernander, officer-in-charge of the Central Detective Unit, warned drivers yesterday to be "extra cautious" after armed men forced a couple to stop their vehicle in the middle of the road before shooting and killing the driver.
Chief Supt Fernander said police believe armed robbery may be the motive for the killing. He said the incident could have "happened to anyone".
The murder took place shorty after 9pm on Tuesday in the area of Millennium Gardens, off Tonique Williams Darling Highway, and brought the country's murder count to 109 for the year, according to The Tribune's records.
Chief Supt Fernander said the victim, identified by police as Kendrick Simms, was driving with his wife, when another car pulled ahead of them forcing them to stop.
"The man was driving through Millennium
Gardens in his Kia (vehicle) with his wife, when a male in a Nissan vehicle forced him to a stop. A man came out of the car with a handgun and pointed it toward the couple," Chief Supt Fernander said.
"The husband tried to move around the vehicle and the suspect but was shot several times. The victim crashed into a nearby fence and died on the scene. The wife was unharmed during the incident."
Simms' wife, Tamara, yesterday posted on social media the day of her husband's murder was the worst day of her life.
"Last night (Tuesday) was the worst day of my life," she posted. "Someone came and took you away from me. Someone please wake me up and tell me it's all a dream. Babes please come back. I miss you so much. Jesus please help me."
Chief Supt Fernander said police believe the incident was isolated, but warned motorists to be careful while driving home at night.
"Attempted robbery is a lead we are following," Chief Supt Fernander said. "This was an isolated incident but it could have happened to anyone who was driving on that road at the time. Please be aware of your surroundings, you have to be careful when driving.
"If you do not know who the person is, do not stop if you can help it. There is not a trend of people being forced off the road, but we want drivers to be vigilant. This murder really touched home because it could have been anyone."
Meanwhile police are still on the hunt for the person or persons responsible for killing a man and injuring four other persons, including three women, on Boxing Day.
The incident took place shortly after 3am on December 26.
Assistant Commissioner of Police Stephen Dean said the victims were travelling in a vehicle on Tonique Williams Darling Highway when they were attacked by several men.
"Around 3am, police received reports that three females and two males were on the highway, when the occupants of a white vehicle pulled up on the side of them and fired several shots into the car before speeding off," ACP Dean said. "All five of the victims were shot and rushed to hospital where one of the males died of his injuries. The other four victims are listed in serious condition."
ACP Dean said police currently have no one in custody for the homicide.
This year the country may still record its lowest murder total since 2010, when 94 people were killed. In 2011, 127 people were killed, 111 in 2012, 119 in 2013, 122 in 2014 and 146 in 2015.
Anyone with information on any of these homicides is asked to contact police at 911 or 919, the Central Detective Unit at 502-9991 or Crime Stoppers anonymously at 328-TIPS.
Investigations into these matters continue.