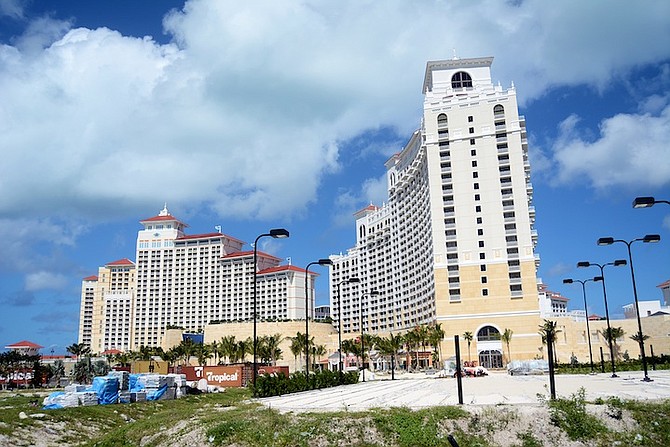 By RASHAD ROLLE
Tribune Staff Reporter
rrolle@tribunemedia.net
FOREIGN former employees of Baha Mar will be paid by the government appointed Claims Committee next month, committee Chairman James Smith said yesterday.
Since the money was given on an ex-gratia basis by the China Export-Import Bank (EXIM) and was intended primarily for Bahamians, most of the foreign former employees won't receive all that is due to them.
Mr Smith said they will, however, receive a "high figure".
He expressed confidence that no one, including foreign employees and foreign companies that did business with Baha Mar, will seek legal remedies to obtain the monies owed to them by the time payouts are complete.
"The foreign employees fall into different categories," he said. "Some have been re-employed at Baha Mar or have continued working at the resort. Some didn't put in for a claim. There was a relatively small number of foreign workers, though. There might not have even been five per cent of them in the overall total."
Despite the ex-gratia payment process, critics have expressed concern that the process does not prioritise paying foreign staff and companies owed money by Baha Mar, saying it could harm the reputation of the country.
Mr Smith said he and others were able to convince officials to provide payouts to foreign staff and companies even though this was not the initial intention of the EXIM Bank.
Mr Smith's comments came as his committee wraps up its work, having "settled claims of virtually all Bahamian unsecured creditors."
While not every eligible person or entity put forward a claim, more than 90 per cent did.
So far, more than $90 million has been paid out to former employees and contracted companies.
A little more than $100 million is expected to be paid out by the time the process is complete.
This includes payment to 330 unsecured companies.
"The majority of them were majority Bahamian owned," Mr Smith said. "It includes 253 that were owed under half-a-million. The others were combination of Bahamian sub-contractors, non-Bahamian companies who would be used again and non-Bahamian subcontractors."
Mr Smith told The Tribune earlier this month that Bahamas Power & Light (BPL) received 100 cents on the dollar, despite Prime Minister Perry Christie's previous suggestion that government owned agencies would not receive all that is owed to them.
Mr Smith clarified yesterday that BPL received a special payment arrangement from the committee because of the company's desperate need for cash in the wake of Hurricane Matthew.
"They needed everything they could get," he said.
By contrast, the Water & Sewerage Corporation (WSC) received 85 cents on the dollar, not all the money owed to it as Mr Smith had previously said.