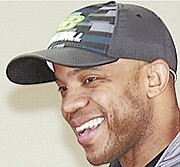 By BRENT STUBBS
Senior Sports Reporter
bstubbs@tribunemedia.net
He has been the most decorated Bahamian professional baseball player in this era, having enjoyed a sting in the Major League. But after 11 years on the circuit, Antoan Richardson is coming to a crossroad in his career.
Richardson is home for the break and to prepare for a free educational forum for sports at the British Colonial Hilton next Friday.
"It's been a year or two years of just battling back from injuries," Richardson told The Tribune in an exclusive interview yesterday. "Last year, I started with the (Pittsburgh) Pirates and ended up with the (Los Angeles) Dodgers and I also played some independent ball.
"But it wasn't until the end of the year that I started to feel pretty healthy and I went to the World Baseball Classic (in September in New York with nine other Bahamian players participating for Great Britain)."
In what he described as his most healthy off season since 2013, Richardson said he's going to step up his training as he weighs out all of his options that are ahead of him.
"I still have a chance to play in the Major League, but if that opportunity doesn't arise, I've had a few offers to coach or to get into the front office of baseball," he listed as his immediate priority.
"I just haven't made up my mind on what direction I will go. I believe it will all reveal itself in another few weeks or months, whether or not I will continue to play or I will go into front office or if I remain home in the Bahamas and help out in sports in general and baseball in particular."
Having cracked the pro barrier in 2005 when he was drafted by the San Francisco Giants in the 35th round of the draft after he completed his education at Vanderbilt University in Nashville, Tennessee, Richardson said he's had an enjoyable ride, meeting a lot of people and playing at the highest level in the sport.
"Baseball has afforded me the opportunity to see the world. It's done so many things for me I can't list them all," he said. "So whenever the ride is over, I will definitely be thankful for my life.
"I was speaking to a young man the other day and we were basically talking about how baseball saved our lives in the sense that if it wasn't for baseball, we would have settled for so much less. So baseball has definitely been good for me."
During his sting, Richardson was called up to the majors for the first time on September 4, 2011, and recorded his first career hit, a single to right field, off of Los Angeles Dodgers pitcher Clayton Kershaw in his first career Major League at-bat.
On December 16, 2011, Richardson signed a minor league contract with the Baltimore Orioles. He played in the Minnesota Twins organization in 2013.
On November 13, 2013, he signed a minor league deal with the New York Yankees. After playing the minor league season with the Scranton/Wilkes-Barre RailRiders, the Yankees promoted Richardson to the major leagues on September 2, 2014. On September 25, Richardson pinch-ran for Jose Pirela in the bottom of the ninth inning against the Baltimore Orioles. He scored the winning run on a walk-off single by Derek Jeter in the final Yankee Stadium at-bat of Jeter's career.
Overall, for the season, he had five hits in sixteen at bats (.313 batting average), along with five stolen bases. After the season he was out righted off the Yankees roster.
On December 11, 2014, Richardson signed a minor league contract with the Texas Rangers. He underwent back surgery on March 27, 2015, and was placed on the 60-day disabled list on April 2, 2015.
Richardson, 33, signed a minor league contract with the Pittsburgh Pirates for the 2016 season, and the Pirates invited Richardson to spring training, but he was released on April 27.
Although he's not affiliated with any team, Richardson has been the pioneer for the sport in the country over the past decade when there have been more players than ever before heading of to too high school, getting athletic scholarships and securing pro contracts.
"It's very exciting to see people having success in baseball in the country again and hopefully this is a trend that will continue to happen," Richardson stated. "So I hope to continue in whatever ways I can like putting on a forum that I will be doing on January 6.
"It's my hope that it will allow these young men and those behind them of what they need to do to see it through and to allow us to have many more baseball players."
And with the reconstruction of the Andre Rodgers Baseball Stadium in 2017, Richardson said it would definitely draw a lot more attention to the Bahamas once they decide on what they will put on in the stadium.
"I know the young baseball players are excited about the opportunity to play in it, so it's something that we all are looking forward to it," he stated.
It's too early to say if he has any plans to bring in any major league partners to perform in the stadium, but Richardson said he ill make himself available to assist the powers that be in any areas that they acquire of him.
"Whatever area I can assist, I will do my endeavor best to help out," he charged. "I'm just excited to be home, but I'm really looking forward to January 6. I think it's something that is needed, not just in baseball, but sports in general.
"You could see, not just baseball growing, but basketball is growing, track and field is growing and all these different sports. But are we growing on the other side of it? Physically we have the athletes, but are we making sure that these athletes see this thing through to the end.
"So I'm excited about that and that is something that I will be talking about. I got to the Major Leagues in September 2011 and I was about 27 about to be 28 and it was about 28 years since the last Bahamian play in the Majors."
Now that his career is winding down, Richardson said it's his hope that it will not take another 2-3 decades before the sixth Bahamian make it to the Majors.
He followed in the footsteps of the late Andre Rodgers (New York Giants, San Francisco Giants, Chicago Cubs and Pittsburgh Pirates 1957-67), the late Wil 'Sudgy' Culmer (Cleveland Indians 1983), the late Wenty Ford (Atlanta Braves 1973), the late Tony Curry (Philadelphia Phillies and Cleveland Indians 1960-66) and Ed Armbrister (Cincinnati Reds 1973-77).
Richardson, who played with the Braves and Yankees, said he's hoping that he can see the one Bahamian join the lofty fraternity in the near future.