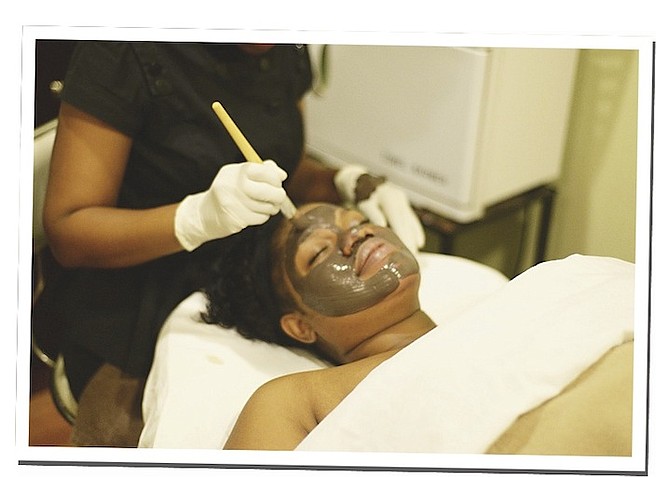 By JEFFARAH GIBSON
Tribune Features Writer
jgibson@tribunemedia.net
BELIEVE it or not, there is a way to enjoy chocolate without worrying about a single calorie. And more than that, you can actually use chocolate to fight issues like aging, dehydration, and to maintain your skin's radiance.
Chocolate, which for many is merely a sweet temptation, has become one of the most unconventional skin care methods and is taking off in beauty circles both internationally and here in the Bahamas.
The Skin Solutions Day Spa and Salon on Cable Beach recently introduced it's signature collection of chocolate-infused treatments, with their chocolate facial experience being the salon's "most unique".
Owner Natila Saunders said the facial experience uses active ingredients carefully selected from natural resources to maintain the beneficial properties of the cacao fruit that chocolate is made from.
"Aside from being ultra relaxing, what's unique about this facial is that it contains high levels of antioxidants which slow down aging. Our chocolate mask also helps to prevent UV damage, which is a big plus as the sun is the number one aging factor for skin. The chocolate facial is also rich in vitamins and minerals like copper, zinc and magnesium, all of which help in firming and cell renewal. Another focus ingredient in the chocolate facial experience is arnica. Arnica is known for its use in skin repair, but it's main function is a tightening effect on the skin. Once applied, skin is visibly smoother, firmer and more hydrated," she told Tribune Health.
Ms Saunders said she finds that most people do not understand the benefits of a good professional facial and often wait until they encounter a skin concern before having one.
"While this is totally OK, these frustrating problems can often be preempted by proper monthly facials and counselling on the correct at-home products. I know that times are tough in this economy and it's undeniably smart to cut back on extraneous purchases. However, the face is always on display and is the first thing the world sees," she said.
"Proper skin care and having a facial has great value because it increases circulation of the blood under the skin, allowing the skin optimal health to facilitate the renewal skin cells; decreases waste underneath the skin that can cause puffiness, ruddiness, and fluid accumulation by manipulating the lymphatic system that lies just under the skin, and helps smooth fine lines and promotes collagen production, which is the building block of the skin to prevent premature aging, wrinkles and sagging."
Having a basic facial alone can have a several of benefits, she added, however, using chocolate in this procedure takes the treatment to the next level in tackling the aging process.
"Chocolate and cocoa are a couple of the best agents for detoxifying the body of impurities, pollutants and toxins. These elements make wonderful treatments to boost the immune system, for hydration and they are anti-inflammatory agents. Not only do they detoxify, they are great antioxidants that protect healthy cells of the body from damage, disease and severe disorders. Chocolate protects the skin from dangerous UV rays, which can cause sun burns and skin cancer," she said.
The chocolate facial experience, Ms Saunders said, is amongst her favourite anti-aging facials because it repairs, protects, and not to forget, it smells delicious.
"What more can you ask for? Skin care is all about balancing the skin's moisture level. Once the skin is hydrated it functions properly. Most people, in their quest to achieve beautiful radiant looking skin, they resort to extreme measures such as bleaching and having harsh chemical peels. These and assaults and more can compromise the structure of the skin and can cause irreversible damage. If you are looking to maintain or repair your skin the chocolate facial experience is highly recommended," she said.
The facial mask, which is painted on the skin, is not made from edible chocolate, and Ms Saunders also does not recommend people making their own concoctions at home.
"I would not recommend that, as edible chocolate may contain ingredients which may not be appropriate for use in a facial. I recommend that one seeks the assistance of a trained professional when it to comes to proper skin care," she said.
• Check out next week's Tribune Woman for all you need to know about chocolate manicures and pedicures