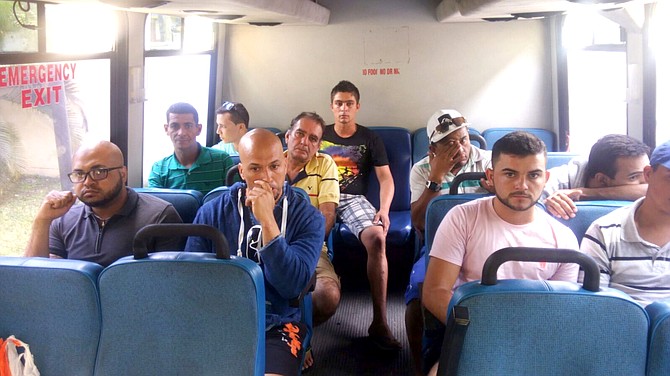 By DENISE MAYCOCK
Tribune Freeport Reporter
dmaycock@tribunemedia.net
NEARLY a dozen Brazilian immigrants were discovered at a local resort in Freeport, and 27 illegal Haitians were brought back to Grand Bahama after a failed smuggling attempt into the United States early this week.
Bahamas immigration authorities reported that sometime around 10am on Monday they received information concerning a group of Brazilians who were preparing to take steps to be smuggled to the United States.

A team of officers, headed by Senior Immigration Officer Jerome Hutcheson, went to a hotel in Grand Bahama where they discovered some 10 men in five rooms.
The men had all entered The Bahamas legally from Brazil and were landed in Nassau on different dates and were given various lengths of stay in the country.
They told immigration officials that they stayed in Nassau for a few days before travelling to Freeport.
Authorities discovered that five of the men had been deported from the United States and were attempting to re-enter that country.
The group was taken to the Department of Immigration where they were processed.
On Sunday, a group of 27 illegal Haitian immigrants and a Bahamian were discovered aboard a vessel, which was intercepted by the US Coast Guard some 4.5 miles off the Lakeworth Inlet, Florida.
There were 14 men, 12 women, and one minor. The Bahamian man who was operating the boat was taken to Florida to face charges, but the illegal immigrants were brought back to The Bahamas and handed over to Bahamian authorities in Grand Bahama.

According to Department of Immigration press officer Napthali Cooper, the USCG Cutter Robert Yered arrived at Lucayan Harbour around 5.45pm on Sunday.
After being turned over to officials in Grand Bahama, the Haitians claimed that they had left Haiti and were at sea for seven days.
However, officials did not believe the group was at sea for that long given the good physical condition that they were in. It is believed that they had left The Bahamas because the vessel was operated by a Bahamian.
The Brazilians and the Haitians were flown to New Providence on Tuesday and taken to the Detention Centre to await repatriation.