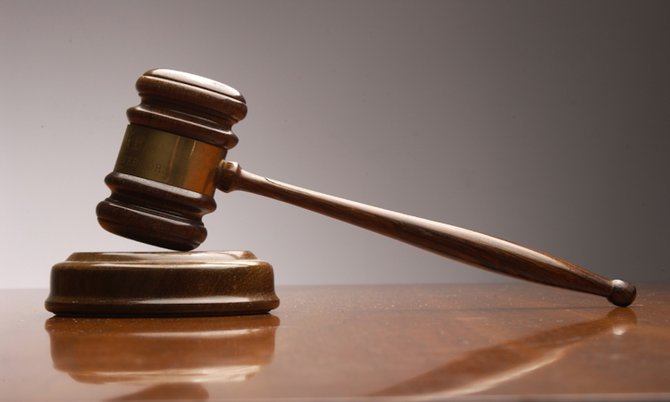 By LAMECH JOHNSON
Tribune Staff Reporter
ljohnson@tribunemedia.net
A SUPREME Court jury yesterday was shown nearly five dozen images illustrating the aftermath of a shooting at a home that claimed three lives, including that of a pregnant woman who was shot in the head.
Senior Crime Scene Investigator Inspector Marvin Cargill took the witness stand yesterday to speak about his role in the investigation into the July 30, 2011, deaths of Edward Braynen, Chackara Rahming and Erica Ward, who was eight months pregnant at the time.
Insp Cargill said that around 8.30am, he and two colleagues from the Central Detective Unit went to a homicide scene on Cox Avenue.
"While there, I saw and spoke with Detective Inspector Cash who gave certain information and instructions," the witness said.
The investigator said he saw a green-coloured apartment with parts of the destroyed door's lock on the ground. He also saw a fired shell near the door.
Entering the building, he saw projectiles on the floor "and there was also a fired shot shell on the sheet near the female".
"I saw the body of a lifeless female, pregnant, lying face down. She had gunshot wounds to the head," Insp Cargill said.
Moving further into the house, the policeman said the bedroom door appeared to be damaged.
"I observed the body of a lifeless male lying on the bedroom floor with gunshot wounds to the chest and arm. There was also a lifeless body of a female lying on the bed. She received gunshot wounds to the face," the jury was told.
The investigator said he also saw a projectile lodged in the wooden frame on the bed.
Insp Cargill said he photographed the crime scene while his colleagues collected samples for analysis and dusted for fingerprints.
The photographs were compiled into an album and distributed to the jury.
As Insp Cargill gave an overview of the 57 images taken by him, the accused men Shawn Knowles, 43, and Timothy Saunders, 36, sat behind their respective lawyers in the prisoner's dock also looking at the album. It is alleged that the men entered the victims' Montgomery Avenue apartment in 2011 and fatally shot Braynen, Chackara and Ward.
However, they were not charged with the death of Ward's unborn baby because a foetus under Bahamian law is not considered a person.
Knowles and Saunders are respectively represented by Romona Farquharson-Seymour and Lennox Coleby.
Cordell Frazier and Randolph Dames are prosecuting the case.
Acting Chief Justice Stephen Isaacs is presiding over the trial, which resumes today at 10am.