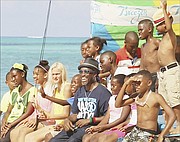 THE voice that became the conscience of the country in songs with catchy lines and upbeat rhythm delivering serious messages has hit the airwaves and Youtube again, this time urging people to stop littering and start respecting the beauty of The Bahamas.
Written, produced and performed by multiple award-winning musical artist Kirkland 'KB' Bodie, 'Das Nasty' was executive produced under the auspices of the popular environmental group Save The Bays.
Its message, says KB, is loud and clear - leaving trash on a beach or littering a lawn is just nasty, it's just nasty. "We are a tourist nation and I wanted a song that would be catchy enough to stick in people's heads so it would be a constant reminder - delivered in a lively, friendly way - to keep our country clean," he said.
Early recordings by the top-selling artist like 'Jus' Cause She Fat' and 'Coo Coo Soup' made him a performing legend while his work in the past few years has solidified him as a producer with a purpose.
"This idea for 'Das Nasty' actually emanated from (Tourism) Minister Obie Wilchcombe," said the singer. "Because we depend on tourism, he wanted a song to remind people to keep our country clean." That motivation was reinforced by a video by Disney Cruise Line crew members last year which caused a stir by showing dirty beaches and sidewalks, trash in bushes and discarded cans on the ground in public places in Nassau.

KB's latest chorus carries the message: "When you throw trash on da' street, you throw trash out ya' car, das jus' nasty, das jus' nasty. When you dirty da Bahamas, boy you know dat ain't right, das jus' nasty, oh, dat ain't nice."

"I think 'Das Nasty' speaks to the common man and will make us remember how important it is to keep our Bahamas clean," said the singer. "I think it also speaks to that fateful Disney video that said our island was dirty. Here is an opportunity for us to show them we do care. We want to keep our islands clean."

The Youtube video, which was shot in Nassau, Grand Bahama and Abaco, features local children who volunteered their time to work with KB and create music with a message.
"Those young people and their parents deserve praise not only for all their energy and the hard work they put into performing but for making sure that not a single soda can, foil or fork was left behind after the shoot," KB said, "It was encouraging. The kids cleaned up behind themselves without being asked to do so. I was so proud of them."
Recent hit songs by KB like 'Hold Dey Feet to Da Fire' have gone viral on Youtube and social media. "With 'Das Nasty', I'm hoping that if it does its job, it will wake everyone up to how important it is to keep The Bahamas clean, green and pristine," said the singer, "and not just become a catch phrase, but be part of our culture and lifestyle."