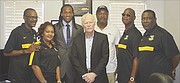 By BRENT STUBBS
Senior Sports Reporter
bstubbs@tribunemedia.net
While he is not expected to make his 2016 debut until he returns home for the 2nd Chris Brown Bahamas Invitational in April, 400 metre hurdles national record holder Jeffery Gibson is home as a special guest for the 13th Star Performers Track Classic at the Thomas A Robinson Track and Field Stadium this weekend.
Gibson, who took a break from his training in the US for his trek to the Olympic Games in August, will be signing autographs and presenting medals to the winners at the Star Trackers meet, sponsored by Baker Concrete and Greyco Limited, 9am Saturday.
"I'm looking forward to see what the different islands come with at the competition," Gibson said. "The Strar Trackers meet is renowned for having some good competition. When I was younger, I participated, so I'm looking forward to some good friendly competition amongst all of the athletes.
"I heard a few teams are coming from Grand Bahama and from North Andros as well. So I'm looking forward to seeing what the youths are doing because it's meets like these that are the building blocks to becoming a professional athlete. I competed at Star Trackers and other meets on the island, so I'm looking to see how the athletes progress."
Not only will Gibson be a spectator, but he will be honoured by Star Trackers Club, headed by coach Dave Charlton, who paved the way for the 400m hurdlers.
"I used to go to these meets and see the special guests, so I am honoured to be the special guest this year," he said. "I want to be able to give back to the youths and to give back to track and field. So just being out there and anything I can do to give some advice and support, I am happy to do it."
Coming off a splendid year in 2015 where he earned the Bahamas Male Athlete of the Year honours by lowering his national record a couple of times en route to winning the gold medal at the Pan American Games in Edmonton, Canada, and a bronze in the IAAF World Championships, Gibson said he's looking forward to giving the Bahamian public a first look at him when he competes at the Chris Brown Bahamas Invitational on April 16 before he makes the trek to the Olympic Games in Rio de Janeiro, Brazil.
In preparation for the season, the Grand Bahamian native said his training has progressed very well.
"It's much more different from the previous years. It's an Olympic year and so you have to bring something new this year," he said. "You have to push yourself to a different limit. I'm doing that. I'm going to the gym a little more, I'm doing a different training method and all sorts of other things."
But when he looks back at what he was able to achieve last year, Gibson said there is a lot of pressure, but it's nothing that he can't handle.
"You have all eyes on you (as a [professional athlete)," Gibson said. "You have it on and off the track, so there is pressure to perform. I know I'm going to be able to rise to the occasion. It's nothing I haven't experienced before, whether it's at the Commonwealth Games or when I did it as a junior athlete. I'm looking forward to it and I know with the help of the Bahamian people, it will be great."
This year, Gibson will be chasing after history as well as he could become the first Bahamian male track athlete to win a medal at the four major sporting events - Pan Am, Commonwealth Games, World Championships and the Olympics. The latter is the only one that has eluded him so far.
An Olympic medal is definitely one of the goals for 25-year-old Gibson, who acknowledged that his priority is the same as last year.
"On the track, I still want to get to that 47 seconds range," said Gibson, who did a personal best of 48.17 to close out his year on the podium in Beijing, China at the World Championships. "That is the range goal. If you can run 47 seconds in the final of the Olympics, you are guaranteed a medal. I know I need to get my body to that level."
Off the track, Gibson said he's hoping to get himself marketed a little more in the Bahamas and he has a management team headed by Jerome Sawyer, whose aim is to get his face seen a lot more and to get him projected as a "real" role model for the younger generation to emulate.
Charlton, who was inducted into the Howard University 2014 Athletic Hall of Fame for his achievement during his sting there, said he's extremely proud of Gibson and his accomplishment after he was recognised by CASJA, the Caribbean Sports Journalists Association, as the Male Rising Star of the Year.
"I may not have reached the level and success as Jeffery has, but our lives are pretty much paralleled," Charlton said. "I was there when Jeffery ran his first 400m hurdles race. He did that because he didn't qualify for the 400. He just jumped up and said I will run the 400 hurdles and he made the qualifying time for World Juniors.
"The same thing happened to me when I competed in Bermuda back in 1988 when the Bahamas won the first CARIFTA Games. I was approached by Neville Wisdom and Keith Parker about running the 400m hurdles. I never ran the 400m hurdles before. I ran it and I won the gold, setting a new CARIFTA record. I lost the 400m.
"The following year I came back and again set a new record in the 400m hurdles and lost the 400m. So I say you know what, the 400m hurdles is my race. I noticed that Jeffery has moved from the 400 and is running the 400m hurdles. So there goes the parallel and similarities. But he has had greater success than I had and he has taken the sport to a higher level on the international circuit."
The two also hail from Grand Bahama.
In their continued insistence from sponsor JR McDonald of Baker Concrete/Greyco Ltd, Charlton said they have invited Gibson to come in and work with the Star Trackers, following on the heels of 'Golden Girl' Debbie Ferguson-McKenzie and Frank Rutherford, the first Bahamian to win an Olympic medal in track and field with his bronze in the men's triple jump in Barcelona, Spain, in 2008.
Both Charlton and McDonald said they are looking forward to having Gibson at the meet as he provides some inspiration to those who are following in his footsteps, hopefully as a 400m hurdler.