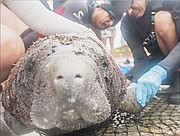 RESEARCHERS turned rescuers when a baby manatee had to be untangled from fishing line in Spanish Wells, Eleuthera.
On December 29, a team from the Bahamas Marine Mammal Research Organisation (BMMRO) responded to a sighting report of a mother and calf manatees, known as "Gina" and "Sayle", in Spanish Wells, Eleuthera, and found that the five-month-old calf had mono-filament fishing line entangled around her right flipper.
Despite several attempts, it was impossible to remove the line. Without intervention, Sayle would lose her flipper, and could die if the wound became infected.
Since the discovery, BMMRO, The Department of Marine Resources and Atlantis' Animal Rescue Team (all primary members of The Bahamas Marine Mammal Stranding Network) have been working together to attempt to temporarily capture Sayle and her mother Gina to enable Atlantis' vet, Dr Eric Anderson, to remove the line.
The rescue operation successfully took place on Monday, February 1, in Spanish Wells harbour. The rescue team, including staff from Atlantis, BMMRO and volunteers from Eleuthera, were able to lure the two manatees to a boat ramp where they were encircled by a net. The capture allowed the team to pull Sayle out of the water so the vet could disentangle her flipper.
The mono-filament line, which was wrapped around her flipper three times, was carefully removed and Sayle was given a full health assessment. Blood samples were collected from both animals to check for possible infection in the calf and assess the general health of the mother. Before the release, a satellite tag was attached to Gina to track her movements.
The entire rescue took less than an hour and upon release the mother and calf swam away side by side.
Since their release, satellite data shows that they traveled from Spanish Wells to Harbour Island on Monday night, then back around the Devil's Backbone and through Current Cut to Hatchet Bay, where they have remained since.
Dr Charlotte Dunn, of BMMRO, said the rescue was "an excellent example of skilled resources available in The Bahamas coming together to help animals in need, and contributing to animal conservation".
More like this story