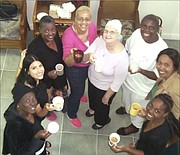 By ALESHA CADET
Tribune Features Reporter
acadet@tribunemedia.net
WITH the goal of taking patients' minds off their illness and helping them deal with sometimes difficult treatment procedures, the Cancer Society of the Bahamas has introduced the "Hugs & Mugs" programme.
Created by the Society's new programmes coordinator, Melissa Major, "Hugs & Mugs" is an initiative to assist the organisation's Cancer Caring Centre patients and caregivers.
In meetings held every Friday at 10.30 am, patients, survivors and caregivers join together to share stories, laughs and become more educated about cancer in general, all while sipping their favourite teas and coffees, and enjoying treats.
"The whole idea of it, like it says, 'hugs and mugs', is an opportunity for persons to come together and share their experiences with the treatment, living with cancer, taking care of someone with cancer. This was really created to get the patients out of their rooms. I am naturally a hugger and I just feel like whenever you are going through something and someone gives you a hug it is almost as if you can feel the negative energy just being released from your body," Melissa told Tribune Health.
She said she wanted to do something out of the ordinary, as opposed to the regular meet and greets that take place.
After the social part of the sessions are done, Melissa said they all go into a more intense group session where they talk about what is happening in their lives.
"It is very expensive to go out and get psychological support, so this is an opportunity to do it with hugs and mugs. We have Angela Ward, who is an individual and group therapist who comes in. It is an opportunity to release, share and be educated. We do a bit of meditation, talk about stress management, nutrition, discuss things like faith and God; we encourage the spiritual aspect of it because it helps with healing and coping with cancer," she said.
"This will be the integrative aspect to the conventional treatment. This part of it is the physical, and for the mind, body and spiritual."
The meetings are held on a weekly basis with the intention to help persons deal with the upcoming week.
For now, the programme is open to all interested persons.
Along with "Hugs and Mugs", Melissa and the Cancer Society have formed a partnership with the The Family: People Helping People with Dr David Allen.
The health and wellness aspect of every programme, she said, is important and they always stress this before, during and after each and every event.
"We have some grief recovery and grief management meetings, what with Angela's background as a psychologist. She can readily identify persons that maybe going through depression. We also talk about the importance of the mindset while you are going through this journey and encourage persons to stick to treatment and build up their immunity in the process," said Melissa.
Going forward, Melissa's responsibilities will include managing and coordinating the educational and promotional programmes at the Cancer Caring Centre. There will be programmes that deal with arts and craft, stress management, as well as educational sessions for caregivers.
"We want to make sure that the caregivers are taking really good care of themselves and not just the patient. Their life and journey is also a priority to us. There are a few upcoming socials that we are probably going to have at the centre for patients," said Melissa.
Additionally, a Freedom Kids event will be held every first Saturday of the month from 10am to noon. The workshop is designed for kids with cancer and sickle cell anaemia, and their families.
"We have a lot of things going on because we have realised that dealing with cancer is not just the conventional medicine part of it where you're doing treatment; we want to be able to focus or help persons focus on the whole individual," said Melissa.