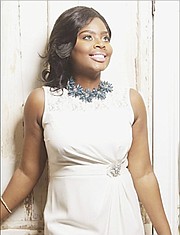 By JEFFARAH GIBSON
Tribune Features Writer
jgibson@tribunemedia.net
BAHAMIAN businesswoman Sharell Carroll has created a special planner which she says will help women prioritise their lives and accomplish their goals this year.
Launched last month, the "Purposed Planner 2016" is for women who want to remain organised while growing professionally and spiritually.
In the "Purposed Planner", Sharell includes inspirational declarations and quotes from local and internationally renowned empowerment speakers like Sherika Brown, Tanya McCartney, Kim Welcome, Keshelle Kerr and others.
"The inspiration for the 'Purposed Planner' came from my desire to see women excel in their spiritual, professional and family lives. It was also God's idea that emerged from my passion to help others identify and maximise their purpose and potential. It is important to be organised and to write your vision in order to take steps to achieve your goals," she told Tribune Woman.
Through her coaching programmes, conferences and motivational speaking events, Sharell has over the years sought to inspire women and young people to live the lives they always dreamed of.
"The overall message is that we may make plans, and that's great, but ultimately we should desire to see God's perfect will be done in our lives, even if that means our plans are postponed. Many are the plans in a person's heart, but it's the Lord's will that prevails," she said.
This proverb is also the theme for the series of planners she anticipates releasing.
"This is the second year and I do believe that I have tapped into a resource that will continue to serve those in my generation and beyond. Many women in Nassau and the Family Islands have shared how the planner has transformed the way they go about their daily lives," Sharell said.
Each month, readers are encouraged to write down their goals, prayer requests and milestones that were accomplished.
"There is also a declaration that will inspire the reader to keep moving despite what challenges may arise," she said.
"It's important to share all of the information within the planner, because I want women to know that they are not alone. God is madly in love with us, and most times we find ourselves being too busy because we have not learned the beauty of prioritisation, and really detoxing from the 'busy Martha syndrome'. It's OK to assign quiet time for yourself. It is quite fine to make time to do absolutely nothing," she said.
"While pursuing our passions is admirable, I've learned the beauty of resting and being OK when things don't go exactly as I planned. I also want women to know that there is a community of other women just like them ready to share their stories, to be transparent and genuine."
Speaking about the feedback from those who have read the "Purposed Planner", Sharell said: "Various persons have told me that they feel my personality and character shining through the pages, and I'm happy about that because it really is a labour of love. I'm grateful for the team of graphic artists and my publishers who captured my vision through the design and quality of printing.