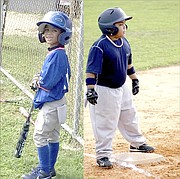 By Inigo 'Naughty' Zenicazelaya
Today is a truly a very special one - it's my youngest son Andoni's birthday!
Yes, 'Naughty 2.0 Version 2' is five.
Have at it all of my friends that are into numerology.
I have truly been blessed as a husband and a parent, and for all of you who know me and my love for sports, know how over the moon I am that my sons love sports too.
Who knows I might end up like Archie Manning one day.
One way or another, the Good Lord willing, I'm definitely going to catch every one of their games if possible. And if JBLN is an indication thus far, I will have lots of 'proud Papa' moments and plenty to brag about.
I've come to realise in the last eight years that no matter what transpires in MLB, the NBA and NFL, the two greatest days in sports history - or history period for that matter - are September 14, 2007 and February 9, 2011. My sons' birthdays - and they are truly my 'championship rings'.
Never mind me not playing in a Super Bowl, World Series or NBA finals. I'm already a winner.
Happy birthday Andoni!
• Great events and happenings in sports history on February 9
1895: First intercollegiate basketball game (Minn Agricult beats Hamline, 9-3)
1895: Volleyball invented by W G Morgan in Massachusetts
1900: Dwight Davis established a new tennis trophy, the Davis Cup
1912: US Tennis Association amends rule taking bye away from defending champion
1916: NL votes down a proposal by Giants, Braves and Cubs to increase club player limit from 21 to 22 (The Reds want to decrease to 20)
1920: Joint Rules Com bans foreign substances and alterations to baseballs
1932: USA enters Olympic two-man bobsled competition for first time
1940: Joe Louis beats Arturo Godoy in 15 to capture the Heavyweight title.
1942: Philadelphia "Phillies" change nickname (temporarily) to "Phils"
1943: NL seeks buyer for Phillies as owner Gerry Nugent falls in arrears
1951: St Louis Browns sign pitcher Satchel Paige, 45
1960: AFL and NFL agree verbally to a no-tampering pact
1964: 9th Winter Olympic Games close at Innsbruck, Austria
1971: Satchel Paige becomes first negro-league player elected to baseball Hall of Fame
1975: Sandra Haynie wins LPGA Naples Lely Golf Classic
1976: Oscar Charleston selected to baseball's Hall of Fame.
1986: 36th NBA All-Star Game: East beats West 139-132 at Dallas
1986: Marvin Johnson wins record third time light heavyweight boxing title
1986: West German team swims world record 4 x 200 m freestyle (7min 05.17sec)
1988: 39th NHL All-Star Game: Wales beat Campbell 6-5 (OT) at St Louis
1988: New Hampshire begins a NCAA record 32-game losing streak at home (ends Feb 1991)
1989: Kevin Johnson (Phoenix) ends NBA free throw streak of 57 games
1992: 42nd NBA All-Star Game: West beats East 153-113 at Orlando
1992: Heike Henkel high jumps female indoor world record (2.07m)
1992: Jani Sievinen swims world record 400m medley (4min 07.10sec)
1992: Shelley Hamlin wins LPGA Phar-Mor Golf Tournament at Hamlin Inverrary
1997: 47th NBA All-Star Game: East beats West 132-120 at Cleveland
1997: Mark O'Meara wins Buick golf invitational
2002: NFL Pro Bowl: AFC beats NFC 38-30
2003: 52nd NBA All-Star Game: West beats East 155-145 (2 OT) at Atlanta
A pretty impressive list, filled with momentous accomplishments and historical value through out. Hopefully one day when I look back I will see one or both of my sons' names etched in the pages of sports history.
Hey, I can still dream right?
• Return to
Peyton's Place
Finally in closing, congrats to the Denver Broncos and their fans on an impressive Super Bowl run.
Goodbye Peyton Manning, here's your cue to exit on top of your game (thanks to Von Miller) and ride off into the sunset, 'melon head' bobbling and Lombardi Trophy in tow.
And you can show off your Super Bowl spoils as the newest member of the Tennessee Titans ownership group.
Thanks for all the memories Peyton, God bless you and yours and exit just ahead on your left.

One down, Brady to go!!
Now before you Broncos fans get beside yourselves, just remember you have been to eight Super Bowls just like the Steelers, Cowboys and Patriots.
Unlike those afore mentioned 'Champions' the Broncos sport a losing record in those games, losing to my Cowboys in the Super Bowl in 1977. Steelers 6-2, Cowboys 5-3, Patriots 4-4, Broncos 3-5.
And sadly despite your third Lombardi Trophy the Broncos still don't top the list of multiple Super Bowl winners.
1 Steelers 6, 2 Cowboys 5, 3 49ers 5, 4 New York Giants 4, 5 Patriots 4. (The Giants beat the Patriots twice in the Super Bowl, thus giving them the nod over the Patriots.)
Hey, I thought I'd help you Broncos fans put things in perspective before you start running those yaps of yours. Anyway enjoy your Super Bowl victory.
Until next week, keep swinging - you will hit something eventually.
• Naughty presents 'Mischief and Mayhem in da AM' from 6am to 10am, Monday to Friday and 'The Press Box' sports talk show on Sunday from 10am to 1pm, on KISS FM 96.1. Comments and questions to naughty@tribunemedia.net