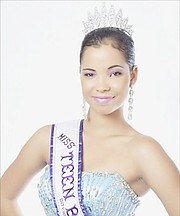 By JEFFARAH GIBSON
Tribune Features Writer
jgibson@tribunemedia.net
The MISS Teen Bahamas International organisation is looking for the next young beauty queen to wear its crown and represent the country on the world stage.
Under this year's theme, "BOYS" (Breaking, Outrageous Young Stereotypes), the organisation hopes to present another spectacular showcase of beauty, intelligence and poise.
Miss Teen Bahamas International (MTBI) offers a ten-week enrichment programme consisting of modelling, makeup application, communication and public speaking, health and fitness, self-defence, financial management, film production and social etiquette.
Now in its fifth year, the pageant will see contestants participate in thorough training activities in preparation for the event's finale.
"It is important that young ladies who have never entered a pageant (to) refine their skills in order to represent our country in the best possible way on the international stage, as many of our former queens and titleholders have done. And it is my task to ensure every exhaustive effort is made in assisting the ladies so that they are properly tooled to perform at their best," said national pageant director Anthony Smith.
"In our intense enrichment programme we offer lifestyle and life-changing training. We have experts in their various fields and industries who commit to supporting our pageant and they volunteer their know-how in order for young ladies to become able citizens of our country."
The pageant's winner will receive an international scholarship, a chance to represent the Bahamas on the international stage, a full wardrobe to compete, glamour photos, special appearances, and a year to campaign on her platform nationally.
"Our 2015 queen, Britney Wells, was the first Bahamian recipient of an international scholarship from Hollis University, a result of her performance and academic accomplishments. This year, we are building on our international scholarship partners to increase opportunities for other young ladies who have entered and won their specific category of competition. That's what we are working on," Mr Smith said.
To enter the pageant, all contestants must be born female, be between the ages of 14-18, have a minimum GPA of 2.5, a positive attitude, a platform and a desire to travel and represent her country.
Applications for the pageant are available at Eye Candy Make-up (Harbour Bay), J-line Fitness and Suntime at the Mall at Marathon. Deadline for submission is February 28. For more information, e-mail mtbipageant@gmail.com or call 463-3126.