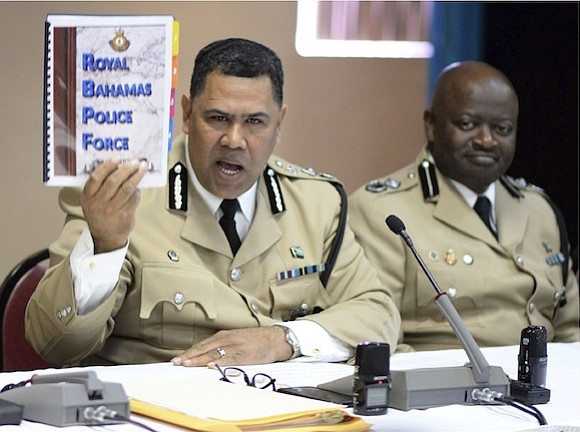 By NICO SCAVELLA
Tribune Staff Reporter
nscavella@tribunemedia.net
FOURTEEN police officers were discharged from the Royal Bahamas Police Force in 2015, a number of whom "went before the courts charged for criminal offences", Police Commissioner Ellison Greenslade said yesterday.
Mr Greenslade also said that many of the officers charged for criminal matters were "of bad disposition and bad behaviour before they committed the offence".
However, the commissioner said he is not "alarmed" at the number of officers discharged from active duty, adding that the terminations were not the result of increased "rogue" behaviour amongst officers, but rather him and his team "paying more attention" to the actions of officers nationwide.
Commissioner Greenslade's revelations, which came during his annual dissemination of the previous year's police crime statistics, comes after several police officers were arrested or interdicted from the RBPF for unsatisfactory behaviour.
In January, a police constable was taken into custody in connection with the alleged sexual assault of a minor female. The Tribune understands the alleged sexual assault took place in Andros.
That same month, another former policeman appeared in Magistrate's Court facing kidnapping and rape charges. The officer was dismissed from the force shortly before he appeared in court.
In December, a female officer was interdicted for her alleged involvement in a brawl with a fellow cop at the funeral of a constable.
Earlier that month, a former police officer was charged with armed robbery; that officer was fired from the force shortly before he made his initial court appearance.
In January 2015, a former police constable was charged with allegedly producing child pornography. He was dismissed from the RBPF shortly after charges were filed against him.

Mr Greenslade said he and his team are "not going to allow anyone's children, including our own, to bring disrepute to this organisation."
He added: "…We do the best we can to hold in trust again I say for the people of this country, and I'm not ashamed to make that admission.
"That is my duty as commissioner, to stand firm and to say I do not support that behaviour, I'm not going to allow you to continue to wear the uniform of the Royal Bahamas Police Force because you have lost my confidence and you've breached the trust of the people of the commonwealth of The Bahamas.
"There should be no compromising on that. You should be able to trust police officers with your lives. That's a simple issue."
When asked if he was concerned about the number of officers arrested or interdicted for unsatisfactory behaviour this year, the commissioner said: "No I'm not alarmed."
He added: "The vast majority of our people are decent people; they want a good job. They will have a great career in law enforcement, in customs and immigration and all of the other government services and the private sector.
"There are some who will play the system, hide behind the badge, not just the police badge I must say…So I'm going to have to defend the decent hardworking police officers that I represent. I'm the chief servant of these officers. They make countless sacrifices day in and day out."
According to 2014's police statistics, 19 officers were discharged from the RBPF for disciplinary reasons, three of them after being found guilty in court.
Commissioner Greenslade also revealed that two of three officers who were discharged after criminal convictions in 2014 have been remanded to the Bahamas Department of Correctional Services.