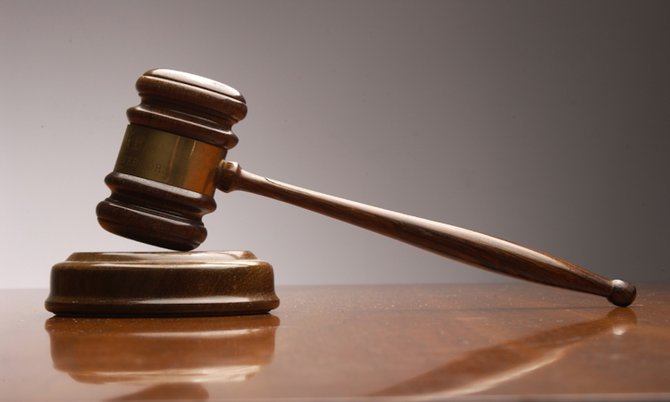 By LAMECH JOHNSON
Tribune Staff Reporter
ljohnson@tribunemedia.net
A MAN who was caught with a loaded pistol was fined $2,000 and sentenced to ten months in prison.
Godfrey Johnson, 50, was arrested on Sunday, February 7, on Market Street when police found him with a loaded black High Point Smith and Wesson .40 pistol that contained eight live rounds of ammunition for the weapon.
Johnson pleaded guilty to possession of an unlicensed firearm and ammunition when arraigned before Chief Magistrate Joyann Ferguson-Pratt on Tuesday afternoon.
On the evening of Johnson's arrest, officers on patrol were tipped off about a man acting suspiciously in the Windsor Lane and Market Street area.
Upon arrival at the location, police saw and approached Johnson who was dressed in dark clothing and informed him that he was suspected of being in possession of dangerous drugs or an illegal weapon.
When searched, officers found the loaded firearm, leading to Johnson's arrest and transport to the Quakoo Street police station.
In his arraignment, when asked by the chief magistrate if he agreed with the summary of the facts read by police prosecutor ASP Clifford Daxon, Johnson said police did not find the gun on his waist, but in his hand.
"I didn't tell them I had it for protection," he said.
"I told them I found it. I told them that."
The chief magistrate said notwithstanding minor disputes with some of the facts, what was not being disputed was his illegal possession of the gun and bullets.
"Is there anything you would wish to say to me?" the chief magistrate asked.
"I was drunk. I never meant to hurt or harm anyone. I was just showing off myself," Johnson said.
The 50-year-old said he had worked for the Public Service Union for 12 years and had a four-year-old son he is trying to support.
"I just trying to get myself together. I'd really appreciate it if I get a chance to get back on the job before I don't have it. I know I did something wrong but I have to take care of my son," Johnson said.
The police prosecutor said that a custodial sentence was warranted in the matter.
Chief Magistrate Ferguson-Pratt acknowledged Johnson's plea in mitigation but noted that the law existed for a reason.
"If you break the law, you must suffer the consequences.
"Having an illegal firearm, whether it was found in your waist or hand, is a serious thing. There's a very high and unacceptable escalation of the use of firearms in this country and the court is called upon to give a sanction which will endorse a zero tolerance for firearms," the chief magistrate said.
Johnson was sentenced to 10 months at the Department of Correctional Services.
If he also fails to pay a $2,000 fine on/or before the completion the sentence, he will serve an additional ten months at the facility.