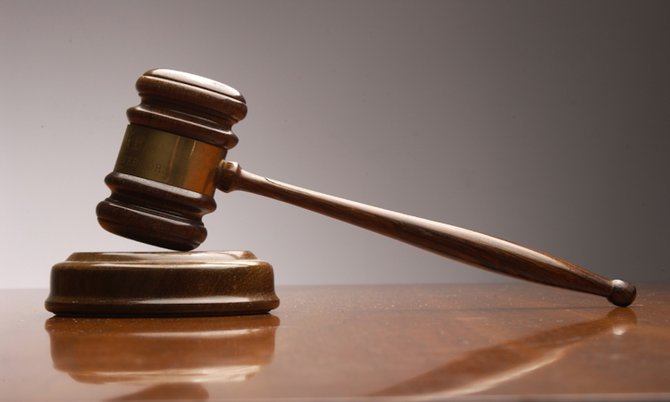 By LAMECH JOHNSON
Tribune Staff Reporter
ljohnson@tribunemedia.net
A MAN who allegedly acquired a handgun to protect himself from people making a third attempt on his life was sentenced to 30 months imprisonment after pleading guilty to possession of an unlicensed firearm and ammunition.
Ronnell Aime, 33, was arrested by police on February 6 after they uncovered a Smith and Wesson .40 pistol and bullets in a kitchen drawer of his apartment on Fritz Lane.
He pleaded guilty to both charges during an arraignment before Chief Magistrate Joyann Ferguson-Pratt on Tuesday afternoon.
Around 6.30pm on the day of Aime's arrest, officers from the Selective Enforcement Team, acting on a tip, executed a search warrant on a home located at Fritz Lane, where they uncovered a .40 pistol with three rounds of ammunition.
Aime told police while in custody - and the chief magistrate on Tuesday - that he had the gun for protection because someone was trying to kill him.
"I got shot five times, they came back two months ago and shot me three times," Aime said at the arraignment.
The chief magistrate asked for the dates of these incidents.
"On Independence (Day) 2013 I was shot and then again just two months ago in November. I was shot eight times in total," Aime said.
He claimed that he lodged formal complaints to police, "but nothing has been done."
Police prosecutor ASP Clifford Daxon informed the chief magistrate that Aime had a previous conviction dating back to 2011.
Addressing Aime, the chief magistrate said: "I've taken note of your experiences but by no means does it justify being in possession of an unlicensed firearm and ammunition."
"There's an unacceptable escalation of firearm related offences in this country and the court must show a zero tolerance for it."
Aime was sentenced to 30 months at the Department of Correctional Services to run from the date of conviction.