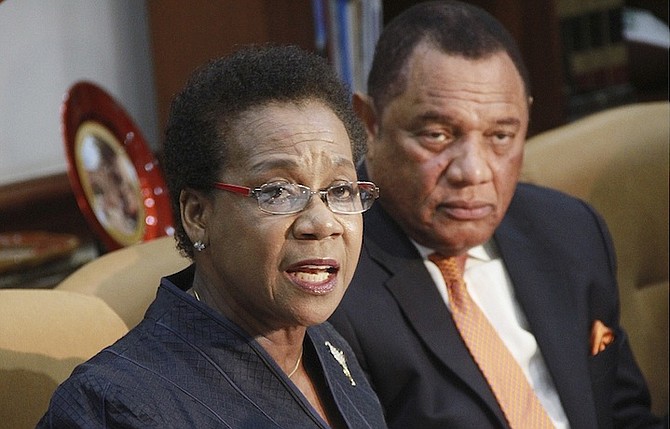 By RASHAD ROLLE
Tribune Staff Reporter
rrolle@tribunemedia.net
PRIME Minister Perry Christie was noncommittal yesterday about the proposed constitutional referendum on gender equality, providing no specifics on when a vote on key legislation concerning the matter will be taken in Parliament.
Instead, he deferred a question on the matter to retired Justice Ruby Nottage, head of the government's constitutional reform education campaign.
Justice Nottage told reporters that she is not afraid that negative attitudes toward women will derail the proposed vote.
The statements came at a press conference at the Office of the Prime Minister where a task force unveiled a plan to address gender violence in the country.
After it was revealed that research showed that an alarming number of high school students believe it is okay for men to discipline their female partners, Mr Christie was asked if he fears such attitudes could impact the success of the constitutional referendum.
He said such thinking is "reflected in the current backlash emanating from the constitutional amendments for gender equality and the anxieties that seem to have been awakened among sections of society."
As for the timeline of the referendum itself, he said: "We are taking steps to bring the debate that is still before Parliament to a conclusion and that means to give Parliament an opportunity to vote finally on the question of gender equality and we then will present that to the country for the country to have the opportunity to make that decision.
"The Constitutional Commission is charged with the responsibility of addressing those concerns. Mrs Nottage…can say whatever she has said to the Cabinet of The Bahamas because she was the spokesperson before the Cabinet of the Bahamas on behalf of the Constitutional Commission last week. But insofar as the government is concerned, we are going to facilitate the constitutional process. The results will depend on the extent to which the population has been educated and the extent to which the population will act responsibly with that education."
The anticipated referendum has stalled after numerous delays. The vote was first scheduled to coincide with the country's 40th anniversary of independence in the summer of 2013. It has been postponed several times since then.
Before the vote can be held, the four Constitutional Amendment Bills must be passed in Parliament. The bills are currently in the committee stage in the House of Assembly.
Opponents to the fourth Constitutional Amendment Bill, which plans to remove discrimination from the Constitution based on sex, have fears that it could lead to gay marriage.
Last week, Minister of National Security Dr Bernard Nottage, who has responsibility for referenda, told reporters the vote would take place before the end of July.