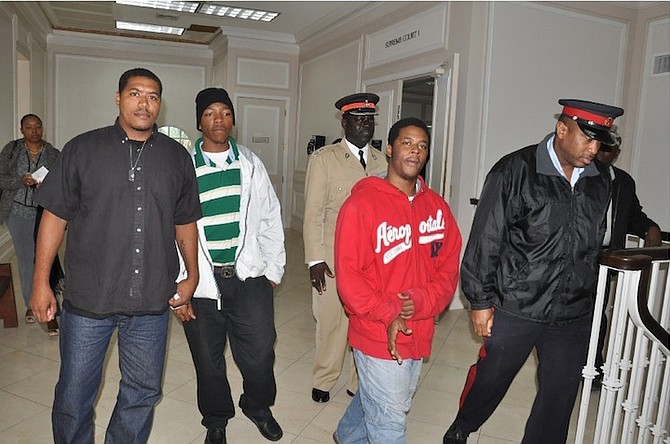 By DENISE MAYCOCK
Tribune Freeport Reporter
dmaycock@tribunemedia.net
IT TOOK a Supreme Court jury less than two hours yesterday to acquit three Nassau men accused of gang raping a Bimini woman two years ago after a night of drinking and clubbing.
Desmond Greenslade, aka "DJ", Natiko Symonette, aka "Junior", and Charmer Cox, aka "Yellow", were found not guilty by a unanimous 9-0 vote and walked out of the courtroom free men.
The charge of rape carries a penalty of 15 years imprisonment if convicted.
After Justice Estelle Gray Evans gave her summation of the case, the jury of nine men retired to deliberate and returned around 2.50pm with the verdicts.  
"You heard the verdict. You have been found not guilty of the charge of rape. You are discharged and dismissed and free to go," Justice Evans told the trio seated on the front bench.
Initially, seven Nassau men were on trial for rape. It was alleged that on February  2, 2014, the men were out drinking and partying at several clubs and smoking marijuana with the complainant, who was 22 at the time.  
They all left the club and caught a ride to the employee dorm room at Bimini Bay, where it is alleged that she was raped. The men were contracted to work at the Bimini Bay project.
In her testimony, she said had been drinking and was in and out of consciousness and saw one of the men on top of her having sex, but could not remember whether anyone else had had sex with her.
Det Sgt Merinard, who conducted a record of the interview with Greenslade and Symonette, testified that they admitted to having sex with the complainant, but only after she had given them her consent.
Last Thursday, four of the men – Brenton Brooks, Terrico Smith, Ridge Farquharson and Fabian Major – were discharged after the judge directed the jury to return a not guilty verdict against them after their attorneys successfully presented a no case submission to the court. 
The remaining three chose not to testify in court.
Brian Hanna, the attorney for Greenslade and Symonette, was pleased with the verdicts.
"I am happy they were acquitted and that justice was served," he said. "It is what I expected would happen because there was no evidence against them from the beginning and I was quite surprised that the Crown continued to prosecute those young men." 
Mr Hanna said he hopes that his clients will learn from their experience.
"Drinking, partying and smoking illegal substances only lead to destruction. They were facing 15 to 20 years imprisonment and so this is an opportunity for lessons to be learned," he said.