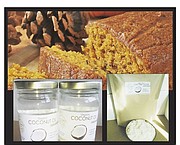 By DENISE MAYCOCK
Tribune Freeport Reporter
dmaycock@tribunemedia.net
ISLAND Luck's OWN Bahamas Programme has been described as a "lifesaver" for budding entrepreneurs like Youlette Etienne and others who have been recipients of grant money to launch their own businesses.
Ms Etienne, proprietor of The Coconut Factory, said with her $25,000 grant she has been able to acquire a major piece of equipment from the Far East needed to grow her business and to meet the demand for her line of coconut products, which are already in several stores and locations in The Bahamas.
"There is no way I would be able to continue without the funding," she said. "It has really helped me a lot."
Ms Etienne, who started out four years ago as Vennie's Natural Factory, produces a line of organic food products from the coconut, including cold press coconut oil, coconut flour, coconut butter spread, shredded coconut and coconut chips. She also sells coconut water by the gallon.
Her next goal is to process the entire coconut husk to use as core mulch and the shell to make charcoal. "I am using the entire coconut," she said.
Before receiving the grant from the Island Luck Cares Foundation last year, Ms Etienne was turned down three times by the Bahamas Entrepreneur Capital Venture Fund, and banks were not willing to lend her funding either. She had also been approved for the Jump Start programme four years ago, but has received no assistance.
Discouraged by the many unsuccessful outcomes, she had almost given up.


"(The OWN Bahamas Programme) has been a lifesaver, and I almost did not apply for it," she told The Tribune. "My Dad said apply for it, and I put in a business plan and I said, 'it is not going to work,' and I forgot about it. And 10 days later, I got a call around 9.30pm from somebody; it sounded like a bill collector, but it was Mr (Sebas) Bastian," she recalled.

Since winning the grant, Ms Etienne was sent on an all-expenses paid trip to China to attend the Canton Trade Fair in Guangzhou, China, where the Foundation said grant winners would "have the opportunity to learn and conceptualise new business ideas in areas such as machinery, electronics and building supplies, along with other manufacturing opportunities".
Because coconut is really difficult to work with, she said it was important for her to find the right equipment.
"I don't have all my equipment and I have not officially opened yet, but my products are in stores: the Organic Store; Supervalue Cable Beach Location, which she started supplying in December; Centerville Food Market; Harbour Front Coffee House, and Courtesy Supermarket in New Providence;
Her products are being sold in two stores in Eleuthera, and she recently picked up a third store there.

Ms Etienne says she has not been pushing too much because she can't keep up with the demand working manually, and is waiting for her equipment to arrive from southeast Asia. She said that she was able to finally find a coconut processing machine. "In China I did not find anyone, but I found someone in Malaysia and it took a while to find them and get the machines I needed – that's why it took almost a year. I sent the deposit and next week they should be shipping those, and it will take another eight weeks to get here."
Laron Kelly, of A+ Exterminators in Eleuthera, said the grant he received was a great "head start" for him as well. He opened his exterminating business in October.
"Business is going good; it is not easy having your own business, but it is heading forward," he said.

Mr Kelly said that he has received some construction jobs since getting started. He said A+ Exterminators provide residential and commercial extermination and all aspects of pest control.

"The grant was a great head start," he said, "but it is difficult working on the Family Islands because getting resources and supplies I have to travel back and forth to Nassau, which is hectic."
Mr Kelly praised Island Luck's OWN programme. "I hope they continue doing this; it is a great opportunity for me and others to get started.
The Island Luck Cares Foundation launched the OWN Bahamas programme last March. Grants ranging from $5,000 to $25,000 were presented to successful applicants.
"OWN is all about taking ordinary people and creating ordinary things. I'm a firm believer that in order to change the economy in the way we want it to change, we have to start by building our Bahamian people. I want to see Bahamians owning a piece of this Bahamas, and not just being ordinary employees," said Sebas Bastian, Island Luck's CEO.
At last year's inaugural launch, OWN Bahamas selected 10 Bahamians as successful applications. For this year, however, Mr Bastian said at last month's 2016 launch that 12 successful applicants will be awarded: two will receive $25,000, five will receive $10,000 and another five will receive $5,000.
Some 350 applications for grant funding have already been received from Bahamians and Shana Vieira, marketing manager Island Luck/Island Luck Care Programme, said they have extended the period for applications by five days to February 29 in expectation of reaching the target of 400.