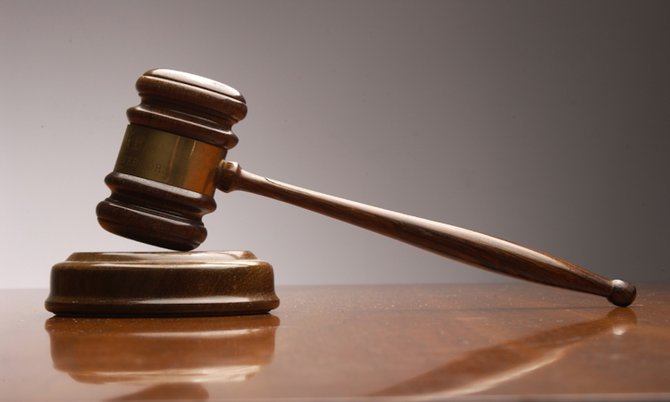 By LAMECH JOHNSON
Tribune Staff Reporter
ljohnson@tribunemedia.net
THE disappearance and murders of a Department of Immigration officer and his girlfriend in Andros allegedly stemmed from a plot to take $8,000 the officer had recently obtained, a jury heard yesterday.
Crown prosecutor Darnell Dorsett made the statement during an opening address to a 12-member jury in the trial of four men – Cordero Saunders, 26, James Johnson, 22, Daniel Coakley, 28, and Zintworn Duncombe, 28 – who are facing two counts of murder, two counts of kidnapping, conspiracy to commit armed robbery and attempted armed robbery.
The alleged victims of the crimes are Shane Gardiner and Tishka Braynen.
The four men, who are accused of committing the crimes between November 24, 2013 and December 21, 2013, deny the allegations.
"We say that several days prior to the mysterious disappearances of the victims, Tishka Braynen overheard the defendants plotting to rob Senior Immigration Officer Gardiner of $8,000 in winnings," Ms Dorsett said.
The Crown alleges that the accused men invaded Gardiner's home to question him concerning the money before abducting both Gardiner and Braynen and taking them to Newbold Farm.
"We allege he was shot to the head and rocks placed over his body until he was found," the prosecutor said.
Braynen's remains, Ms Dorsett said, were allegedly found in a 10-feet deep well.
Corporal 1831 Rudolph Sweeting, a crime scene investigator, testified that on November 24, 2013, he and a team of officers from the Central Detective Unit in Nassau flew to central Andros.
At 5.15pm the same day, he went to Love Hill to Gardiner's residence.
He observed that the front door of the house was open and a white Honda Civic was in the yard, with a set of keys in the car.
Inside the home, he saw that the kitchen had been disturbed and there appeared to be "apparent gunshot damage" to a washer-dryer set.
"There was also apparent gunshot damage to the hallway wall and a bullet fragment on the ground between the washer and hallway wall," the witness said.
The officer said he photographed the scene and collected items of evidential value for analysis.
An hour later, the team went to Davis Creek and he saw a parked dark coloured Kia Sportage with suspected bloodstains inside.
He and others returned to Davis Creek the following morning and found some plastic with what was suspected to be blood on it.
The search for the missing couple lasted until December 21 where the suspected remains of the two were found.
Saunders, Johnson, Coakley and Duncombe are respectively represented by lawyers Moses Bain, Donna Major, Terrel Butler and Ian Cargill.
The case resumes today before Justice Indra Charles.