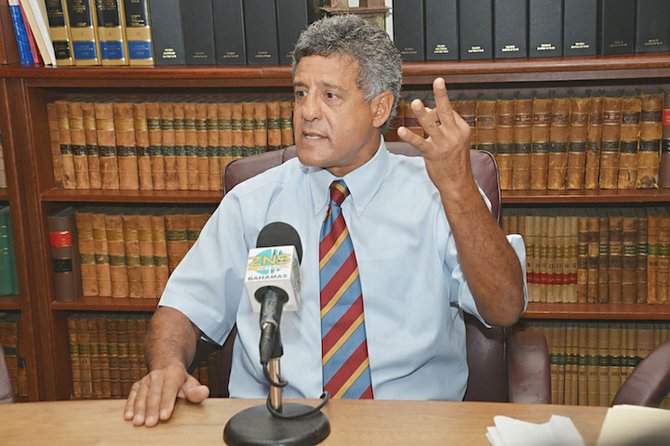 By RASHAD ROLLE
Tribune Staff Reporter
rrolle@tribunemedia.net
ATTORNEY Fred Smith has warned Foreign Affairs and Immigration Minister Fred Mitchell not to "lay a finger" on the two Cubans authorities are searching for, more than a week after the men were released from prison for being held there unlawfully for nearly three years.
Mr Smith, who represented the men in court, said he would sue the government for defamation on behalf of the Cubans, accusing the Christie administration of "poisoning" the public's mind against the men.
His statement came after Mr Mitchell confirmed on Friday that the men were reportedly last spotted in Bimini.
Mr Mitchell said he has alerted border patrol units as well as authorities in the United States to what he believes is an attempt by the men to illegally enter the US.
Mr Smith, QC, and Adrian Gibson, who also served on the Cubans' legal team, said they don't know the men's location.
"My job is to do the legal work," Mr Smith said during a recent interview. "I don't have involvement in people's freedom of movement. My job was to present their case for a court to make a determination as to whether they were being legally held. It's not my business to control where my clients go or don't go."
Mr Gibson made similar comments, stressing to The Tribune that the men – wherever they are – were not assisted by their attorneys in their movement.
He said he was surprised to hear of the Immigration Department's desire to re-arrest them and expressed fear that the men would be hurt if found anywhere in the country.
Said Mr Smith: "I warn the director of immigration and minister that if they lay one finger on my clients I will sue them personally for malfeasance in public office, assault, battery and false imprisonment. My clients have committed no offence. There is no offence under the Immigration Act of being without legal status. It is illegal and unconstitutional to round people up and hold them without charge."
He continued his harsh criticism of Mr Mitchell, saying his clients will sue the minister "personally for abuse (of) power."
"It is obscene," the human rights attorney added. "I'm not out to bankrupt the government but if he continues to act unlawfully he will simply continue to crank up the millions of dollars that he is costing the taxpayer. My clients didn't pick this fight. He did, so back off, admit your mistake and leave my Cubans alone."
As questions remain about why the Office of the Attorney General failed to oppose an application in court to have the men released from prison, Mr Smith defended the way the matter was handled by the Crown, even as Attorney General Allyson Maynard-Gibson has yet to comment on the matter, despite calls to do so.
"Don't make the Attorney General's Office your political scapegoat," Mr Smith said. "The attorney general did the correct thing; they offered no evidence for unlawful detention. The Attorney General's Office is a ministry of justice, not a ministry of persecution and victory at all costs. The attorney general is the highest officer of the court and has a responsibility through all of their lawyers to prosecute and not persecute. There was no evidence to justify the three years of illegal detention and I urge him to stop making false accusations against my clients."
Officials have pointed to the unwillingness of the United States to take the men as proof that they pose a national security threat to countries.
However, Mr Smith said only one of the men has ever had a conviction and served a sentence, for a driving under the influence (DUI) charge.
As for the ability of the men to move about this country, Mr Smith said: "Article 25 of the Constitution provides for every person, including foreigners, to have freedom of movement in the Bahamas. My clients are free men and they are entitled to be in Bimini, Freeport, Acklins or San Salvador. And they can even be guests in my home if I wanted to because they haven't committed an offence."
He said the Immigration Department should only be concerned about preventing people from coming to this country illegally.
On February 18, a Supreme Court justice ordered the release of Cuban nationals Carlos Pupo and Lazaro Seara Marin after Mr Smith argued that they had been held unlawfully for three years at the Department of Correctional Services.
They were previously at the Carmichael Road Detention Centre.
More like this story