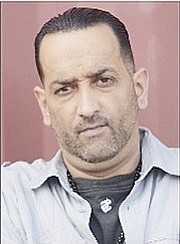 By Inigo 'Naughty' Zenicazelaya
THIS week I continue with the top ten portion of my list counting down the greatest 'Sports Movies' of all time.
I must admit this got to be a little bit brain racking, as there were so many reasons as to why a particular movie could have surpassed another on the list.
But after much mental back and forth, here's the final list.
10 Slap Shot
A stand-up comedian's dream.

This 1977 'classic' explores the humorous, rough and rowdy world of semi-pro hockey.
Edgy and foul throughout, the film tracks the progress of an awful team who greatly improve when they resort to violent tactics served up by the bespectacled Hanson Brothers.
Starring Paul Newman in one of his most comedic roles. What's more, it's as funny today as it was when it premiered.
9 Eight Men Out
John Sayles 1988 'epic' was based on the 1963 novel of the same name by Eliot Asinof.
The story retells the notorious Black Sox scandal, in which eight members of the Chicago team were banned for life for conspiring with gamblers to intentionally throw baseball's World Series.
Charlie Sheen does well in his pre 'Major League' role, a far cry from his present situation.
While overlooked by the Academy and other major awards, it is regarded as one of the best and most underrated sports films ever. And I mean ever.
8 Miracle
The real-life story of hockey player-turned-coach Herb Brooks (Kurt Russell) and the famous 1980 USA Olympic hockey team.
Directed by Gavin O'Connor and written by Eric Guggenheim, "Miracle" captures the improbable success of the 1980 US Olympic hockey team.
This band of underdogs fought their way to the final, winning the Gold and defeating the heavily-favoured Soviets in the process, forever being remembered as "the Miracle on ice".
7 Field Of Dreams
In this 1989 film, Kevin Costner plays a man who is convinced he's supposed to build a baseball diamond in a cornfield behind his house.
The adaptation of the novel "Shoeless Joe" by W P Kinsella was directed and written by Phil Alden Robinson and earned several Academy Awards nominations.
6 The Natural
Nominated for four Academy Awards, Robert Redford plays the mysterious 'naturally' gifted slugger Roy Hobb.
Armed with a bat carved from a tree struck by lightning, Hobb leads a lowly baseball team to the top of the league, finding love along the way.
5 Pride Of The Yankees
Gary Cooper nails the role of Yankee legend Lou Gehrig, from his early beginnings to his tear-jerking retirement speech.
Throw in a 'cameo' by the 'Bambino' himself, Babe Ruth, and its cements its place in the top five.
4 Bull Durham
Director Ron Shelton hit a 'grand slam' with this motion picture. Kevin Costner, Susan Sarandon and Tim Robbins form a 'trifecta' in this one; they are awesome in every scene they're in.
A brilliant in depth look at 'life' in the minor leagues. Single A ball through Triple A.
3 Friday Night Lights
Based on H G Bissinger's best seller, "Friday Night Lights" captures the journey of a small Texas town's (Odessa) run to a championship. The pressure put on the team and its head coach Gary Gaines (played by Billy Bob Thornton, who is spectacular in the role) is enormous, further highlighting the importance of high school football in America, and the Friday night tradition to small towns across the USA.
2 Raging Bull and Rocky
You know I had to have a tie in here somewhere.
Both movies were too good not to make the top ten; neither is better than the other on my scorecard. I've got a draw all the way around here.
Each has its merits and moments, "Raging Bull" based on the real life of Champion Jake LaMotta, the other on the fictional fighter and champion 'Rocky Balboa'.
The title of 'classic' can be attached to both these films without debate.
1 Hoosiers
This 1986 film is the ultimate 'underdog' story. The coach with the controversial past along with a former basketball stand out now turned 'town drunk' collaborate to lead the small but mighty 'Hoosiers' to victory and immortality in basketball lore.
It resides in every 'hoops' lover's collection.
It boasts an all-star cast with Gene Hackman, Dennis Hopper, Barbara Hershey and Sheb Wooley.
A motivating and inspirational film for all, especially basketball players, past, present and future.
A reminder of the films
Naughty ranked from
20 to 11 last week:
20 A League Of Their Own -
19 Rudy
18 Remember The Titans
17 Victory

16 The Bad News Bears
(the original)
15 Chariots Of Fire

14 Jerry McGuire
13 Happy Gilmore

12 Million Dollar Baby
11 Caddyshack
Until next week remember the words of Muhammed Ali - "Suffer now, and live the rest of your life as a champion."
• Naughty presents 'Mischief and Mayhem in da AM' from 6am to 10am, Monday to Friday and 'The Press Box' sports talk show on Sunday from 10am to 1pm, on KISS FM 96.1. Do you agree with Naughty's choice or has he missed anything out? Comments and questions to naughty@tribunemedia.net