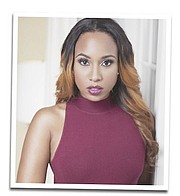 By JEFFARAH GIBSON
Tribune Features Writer
jgibson@tribunemedia.net
TAKING A dating sabbatical could be the very thing to improve prospects of love and marriage - at least that is what Bahamian author Kerel Pinder believes.
In her new book "The One Year Challenge" set for release at the end of this month, she encourages singles to take a shot at the no dating task for 365 days.
"The One Year Challenge" is much more than zeroing out social engagements with eligible bachelors. At the core it is an intentional effort to pursue God's perfect love and his plan for relationships and marriages.

"At the beginning of December 2012 during a low moment in my life I asked a spiritual mentor, how did he know his wife was really the 'one'. He said to me, 'she had everything I was looking for'. I wanted more than this simple statement, I prompted him to elaborate. However, he said instead of elaborating, I just want you to watch something. It was the series by Andy Stanley on "The New Rules of Love Sex and Dating".
Mr Stanley, book author and the founder of North Point Ministries, a worldwide Christian organisation, became a major inspiration for Ms Pinder. In one of the messages in the series he spoke on "The One Year Challenge".
"The One Year Challenge dares singles that have been dating their way and making selfish decisions throughout their previous relationships to take a year off from dating, to learn how to really love God, love themselves and to eventually learn to date God's way. This sounded great in theory but much harder in reality. Needless to say, when I first watched the series I was adamant that this was something I would never do. However after a bit of tugging from the Holy Spirit, I realised how much I needed to take this challenge," she told Tribune Woman.
Many women are in pursuit of love, marriage and finding their Prince Charming. In the process they end up kissing many frogs, getting heartbroken, losing themselves and their self esteem in the process. Ms Pinder, too, experienced some of those feelings before taking "The One Year Challenge".

"I was broken, rejected and felt completely defeated," she said. "I was dealing with so many dysfunctional issues and I kept looking for a man to fulfil my happiness. However when I took time away to myself, I allowed God to re-write my love story. I stopped obsessing over having a man at whatever cost and I began to grow into my purpose.
"I believe we have become so immune to dysfunction, without even knowing it extreme jealousy and trust issues have become the new normal. We have become so comfortable in brokenness that we're too afraid to realise that we are worth so much more. This is a truth that I think a lot of men and women need to hear. I believe everyone wants to know what it feels like to experience unconditional love and to understand their purpose and for some to one day enjoy a God ordained marriage. So it does not have to be a year but recognising and taking the time to really explore who God created us to be is message I believe is worth sharing."
One of the main reasons for Ms Pinder writing the book is to show singles that there is a better way to date. "I give a very transparent look into the relationships and experiences that led me to take a year off from dating," she said. "I also address the real issues that a lot of us deal with in relationships from insecurities to sex to commitment issues. I cover it all. I talk about faith, celibacy and a whole lot of self-awareness. The overall message is a message of growth. I want readers to walk away understanding how important it is to take the time to sit in your truth and really discover the person that God created you to be. I believe we spend too much time obsessing over the wrong things, instead of becoming passionate about the things that will help us to flourish within our purpose."
"The One Year Challenge will be available on Amazon on January 30. A launch party and book signing will be in Freeport at the end of the month and a Nassau launch in February. In March Ms Pinder plans to travel to the United States for a screen writing course for a few months and hopes to have the chance to promote her book internationally.