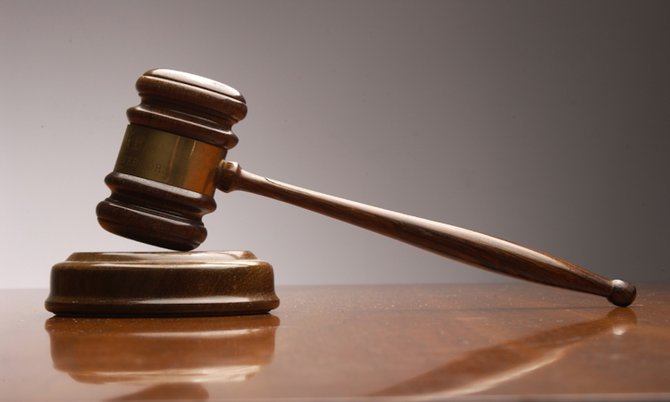 By LAMECH JOHNSON
Tribune Staff Reporter
ljohnson@tribunemedia.net
A PLUMBER at the Bahamas Agriculture and Marine Sciences Institute (BAMSI) in Andros received a six-month sentence, a $4,000 fine and a strong lecture from a magistrate yesterday after he pleaded guilty to possession of an unlicensed shotgun.
Ceril Rolle, 38, of Nicholls Town, stood before Chief Magistrate Joyann Ferguson-Pratt facing up to seven years imprisonment for the 12 gauge Maverick shotgun found in his possession on January 1.
Rolle's lawyer, Lennox Coleby, told the court his client found the "rusty" firearm in bushes while crab hunting on New Year's Eve.
Mr Coleby asked the court not to view his client's case in the same light as that of Brian Botham's – referring to a recent Court of Appeal decision – as a person in Rolle's case could receive a license for a shotgun and not a firearm as in Botham's case.
However, the chief magistrate said prison time was warranted due to the "unacceptable proliferation of firearms in the country."
She also told the convict: "When you become a man, you put away childish things. You're beyond childish curiosity. When you see a gun, it's only one thing for you to do – run."
She considered Rolle's lack of previous convictions and early admission of guilt to the crime before imposing both penalties. The fine, the chief magistrate added, was to be paid on/or before the completion of the six-month sentence at the Department of Correctional Services.
If the fine is not paid, Rolle will spent an additional 12 months in prison.
Around 4am on January 1, officers from the North Andros Division were on routine patrol when they stopped a suspicious Nissan Sunny vehicle in Conch Sound, North Andros with four persons inside.
The officers searched the vehicle and found an unlicensed shotgun underneath the front right passenger tyre. Rolle was arrested and taken into custody.
He was sent to Nassau where he did not answer questions put to him concerning the weapon.
The chief magistrate asked the accused if he agreed with the summary of the prosecution's case as read by ASP Clifford Daxon.
"Only some parts of it," Rolle said.
"What parts you don't agree with?" the chief magistrate asked.
"How I found the gun," Rolle said.
Rolle's lawyer suggested to the court that his client might understand her line of questioning better if she phrased the question in a simpler manner.
Mr Coleby later told the court: "He works as a plumber at BAMSI but things there went bottom up so he took to crabbing."
Rolle, he said, had found the shotgun in bushes while crab hunting during a watch night "rush out" event in Conch Sound on New Year's Eve night.
"He took possession of the gun and has admitted responsibility. For 38 years, this young man has not gotten himself into any problems. This, by all standards, is a model young gentleman," Mr Coleby argued, adding that his client "was not even in prolonged possession of it."
"He went crabbing (that) night. It was a rusty gun. We don't know if it was capable of chambering but he wasn't involved in any criminal activity," the lawyer stressed.
"We're asking this court to distinguish this matter from that of (Brian) Botham because this gun is licensable. When you marriage the seriousness of the offence with the mitigating factors of the accused, this is not one he should receive a custodial sentence," Mr Coleby said.
He added that the court should be as lenient as possible given the circumstances and that "a fine be attached to reflect the seriousness of the offence."
In November, the Court of Appeal issued a warrant of apprehension for 48-year-old Botham after ruling he should not have been conditionally discharged for his crimes of possession of an unlicensed firearm and a large quantity of ammunition.
Botham was sentenced in his absence to three years imprisonment for the possession of a 9mm handgun and five years for the near 400 rounds of ammunition found at his home on June 25, 2012.
The chief magistrate, in response to Mr Coleby, said: "I appreciate your submissions because some of your colleagues make me to be a fairy godmother."
"I'm a judicial officer (and) I have a function. I enforce the law, that's my job. If you break the law, you have to suffer the consequences. There are too many illegal firearms in the land wreaking havoc."
She then addressed Rolle and asked him about his income from fishing and crabbing. Rolle claimed to make minimum wage ($220 a week) from each of the two jobs.
The chief magistrate suggested that he was not working hard enough to be making such a small amount of money on an island abundant in those resources.
ASP Daxon recommended that Rolle receive a custodial sentence to reflect the serious nature of the crime.
The chief magistrate agreed with the police prosecutor that a custodial sentence was warranted in the circumstances notwithstanding prior lack of convictions.
"What is also in favour of the defendant, he has entered a guilty plea at a very early stage," the judge said. "He has manned up. That's what a man is supposed to do, take responsibility when he is wrong. Sir, this is real talk . . . This is not the time nor season for anyone to come upon a gun. Whoever put it there, let them get caught with it."
Before allowing officers to take Rolle away to await transport to prison, the chief magistrate told the defendant to learn from this situation.
"It's not important how a man starts, it's how he finishes. It's not the end of your story. You learn the lesson to be learned, you pick up the pieces and you end strong, you understand me?" the chief magistrate said.
"Yes, ma'am," Rolle replied.