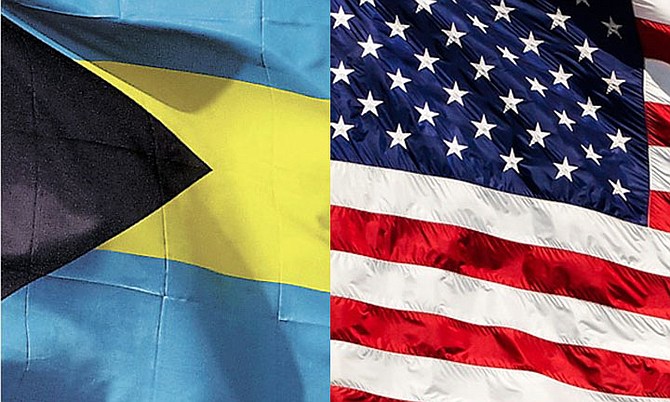 By RASHAD ROLLE
Tribune Staff Reporter
rrolle@tribunemedia.net
DAYS after an American woman was allegedly raped by a man riding a Jet Ski at Cabbage Beach, the United States Embassy in Nassau has "prohibited" its employees from using Jet Ski rentals in Nassau, saying the industry is "minimally regulated."
The embassy also advised American citizens not to patronise Jet Ski operators in this country as it also warned US citizens living in or travelling to the Bahamas to "be aware of their surroundings and remain on heightened alert to avoid being victims of crime".
Last night, Minister of Transport and Aviation Glenys Hanna Martin reacted to the move, stressing that the government has a "zero tolerance" policy as it relates to the industry. In a statement, she said the alleged attacker in Saturday's incident was not a part of the water sports industry, but was riding a Jet Ski on a private beach.
"Since July 2014, there have been five sexual assaults of US citizens by Jet Ski operators in Nassau, the most recent on January 2, 2016," an embassy security advisory, which was issued yesterday, said.
"As a result, the US Embassy has prohibited personnel under US Embassy Chief of Mission authority from using the services of Jet Ski rental operators in Nassau. This includes Jet Ski operators on Cabbage Beach and Cable Beach. We strongly advise that US citizens do the same and not patronise these services. Jet Ski rentals in the Bahamas are only minimally regulated."
Meanwhile, Mrs Hanna Martin said she would meet with representatives from the industry today to discuss the repercussions from the embassy's decision.
"This incident did not involve a participant in the Jet Ski industry," she said. "However, certain public comments in the aftermath of this incident may have had the unfortunate effect of erroneously projecting that the alleged perpetrator was a licensed operator when in fact he was not.
"The commercial water sports industry is governed by the Commercial Recreation and Water Craft Act and all operators are subject to full vetting by the Royal Bahamas Police Force (RBPF) before licensing. "The government of The Bahamas has instituted a zero tolerance policy in the industry, however, despite our efforts, challenges do remain. I have discussed this challenge with the Ministry of National Security who has undertaken to assist our efforts in ensuring a lawful and orderly environment. I shall be meeting with owners and operators tomorrow (Wednesday) to discuss this advisory and its potential impact on their livelihood. Again in the interest of accuracy, the most recent incident did not involve anyone who is licensed to engage in commercial water sports."
The most recent alleged sexual attack occurred on Saturday. Police said an American woman was on Cabbage Beach, Paradise Island around 5pm, when a man on a Jet Ski allegedly raped her.
Weeks earlier, in December 2015, police arrested a Jet Ski operator in connection with an alleged sexual assault of a female visitor.
That incident also happened near Cabbage Beach.
On Sunday, Ed Fields, Atlantis' senior vice-president of public relations, released a statement saying such incidents have reached "unacceptable levels." The hotel executive called for "bold, decisive and immediate action" to address the problem.
Mrs Hanna-Martin told The Tribune on Monday: "The industry is regulated, but we do have a lot of challenges like this one. I have been speaking with the minister of national security and we are discussing using the police and the defence force to assist with patrolling the beach.
"These sorts of incidents have been a concern of mine for a while and we do have challenges but we are working to address them. For example, since January 1, 2015 no Jet Ski operator is allowed to accompany someone on the Jet Ski, but people still don't know this. So we will use the defence force and the police force to help us with enforcement and regulation and prevent incidents, where people are being hurt and attacked, from happening."
A 29-year-old man was arraigned in Magistrate's Court yesterday in connection with Saturday's incident.