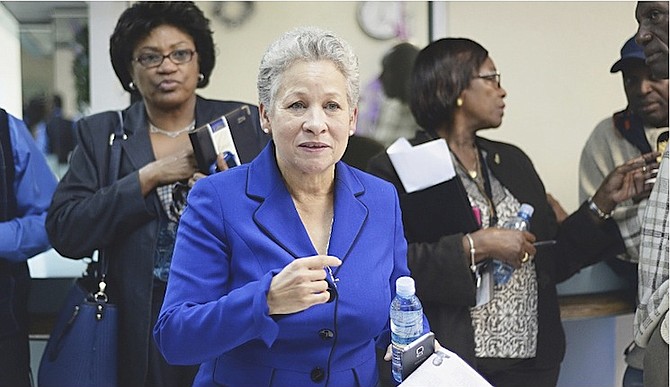 By SANCHESKA BROWN
Tribune Staff Reporter
sbrown@tribunemedia.net
JET Ski operators yesterday vowed to do "whatever it takes" to prevent unlicensed persons from conducting business on public beaches.
Speaking with The Tribune after a nearly three hour long meeting with Transport Minister Glenys Hanna Martin and representatives from the Port Authority and Royal Bahamas Defence Force, several of the operators said they have "had enough" of a few "bad apples" ruining their livelihoods.
Their comments came one day after the United States Embassy in Nassau said it has "prohibited" its employees from using Jet Ski rentals in New Providence, saying the water sports industry is "minimally regulated".
Days after an American woman was allegedly raped by a man riding a Jet Ski at Cabbage Beach, the embassy also advised American citizens not to patronize Jet Ski operators in this country as it also warned US citizens living in or travelling to the Bahamas to "be aware of their surroundings and remain on heightened alert to avoid being victims of crime".
Mrs Hanna Martin has stressed that the alleged attacker in the latest incident was not a licensed Jet Ski operator, nor was he a part of the industry.
Patrick Glinton, president of Glinton Watersports, said licensed operators are "ready to take this to the next level" and remove "whomever needs to be removed from the beach at any cost."
"We are going to take this to the next level whether they like it or not. All the operators are on board to weed out any individual that comes around there that is not licensed. We are going to put pressure on them – that is just how it is going to have to be from now on. If we have some problems after, we will have to deal with it. We will bring the heat and do what we have to do. If they are unlicensed, they will not be there, that's it, we are going to put the pressure. That's how it is going to be," Mr Glinton said.
"We let them slide in the past because we knew them personally, but now we see what is happening we are going to have to take the bull by the horns and make it happen for us.
"They say it's a public beach and we can't tell them what to do, but now this is affecting our business and I am taking no beating for no other man. I will do what we have to do to protect my business. We are taking a stand," he added.
Sean Lewis, owner of Lewis Watersports, said he doesn't blame the US Embassy for issuing the advisory and urged the government to "properly regulate the industry."
"I cannot get mad at the embassy for protecting their people. The government now needs to step in and deal with crime and get some boats in the water to man the water. They have people on the land, but not in the water. I feel like this meeting is fresh wind, the government said some things and they said they will implement them immediately and we can't wait to see these things in place, once that happens this industry will get better. These persons who are not licensed to be on the beach need to go. If they are not licensed they will be escorted off the beach, they are doing things and we are being blamed, so we will have to find a way to remove them."
Mrs Hanna Martin said her ministry has now formed a committee comprised of licensed water sports operators to fix the problems plaguing the industry.
"We have determined to come together and look at the issues and see what the recommendations are and form a committee then we will come back and see how we can fix the issues," Mrs Hanna Martin said.
"The one thing that is clear is that a collaboration between the agencies is needed. So we had the defence force in the meeting and I spoke with the minister of national security to have the police involved. We will create an environment that makes it very difficult for someone to go in a contrary way, so if they are on the beach with a Jet Ski and they are not supposed to be there, it will be fixed."