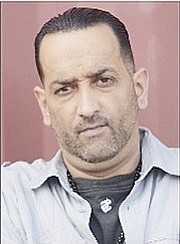 ONE of the hottest comedians in the country and some of the most popular musical acts will take the stage on Saturday, January 16, for the annual Susan G Komen Bahamas Race for the Cure Survivors Ceremony.

Iñigo "Naughty" Zenicazelaya will play host at the event, which will take place near the Hurricane Hole Marina on Paradise Island. The ceremony is the highlight event for Komen Bahamas and honours those who have won their fight with breast cancer.
Nehemiah Hield, So$a Man and Najie Dun will feature while Visage members Dyson Knight and Wendi Lewis, who donated the official 'Komen Anthem: Race for the Cure' song, will perform the tune for the survivors.
The Marina Village Junkanoo Troupe, headed by Stan Burnside, will also entertain the crowd.
For "Naughty", host of the top-rated morning show, Mischief and Mayhem in Da AM on Kiss 96.1FM, the Survivors Ceremony is deeply personal as he lost his mother, Marlene, to cancer on Valentine's Day, 2013. "Cancer has a sworn enemy in me. So, whatever I can do in the fight against it or to raise awareness about it, I'm all in," he said. "Cancer will have to deal with me trying to eradicate it, in the same vein that it eradicates so many of our loved ones.
"I also know the importance laughter plays in the fight against cancer. From patient, family and friends to medical personnel. It helps on many levels. My late mother always said to me, 'do your stand-up comedy as long as you can, you don't know what your audience is going through, and for a brief moment you provide a welcome distraction and an enjoyable relief from whatever is hurting them'."
Widely known for being a practical joker, "Naughty" says the Komen Bahamas audience can "expect the unexpected".
"I enjoy hosting events like these and getting everybody fired up. And after 18 years performing stand-up comedy, I can improvise with the best of them, so I'm sure I will have a broad canvas to work with," he said. "Basically, folks can expect a good laugh and a good time whenever I'm on the mic, all for a most worthy cause."
The Susan G Komen Bahamas Race for the Cure starts at Montagu Beach at 7am on Janaury 16 and ends at the former Hurricane Hole area on Paradise Island. The ceremony starts at 8.30am. To register for the 5km run/walk, visit www.komenbahamas.org.