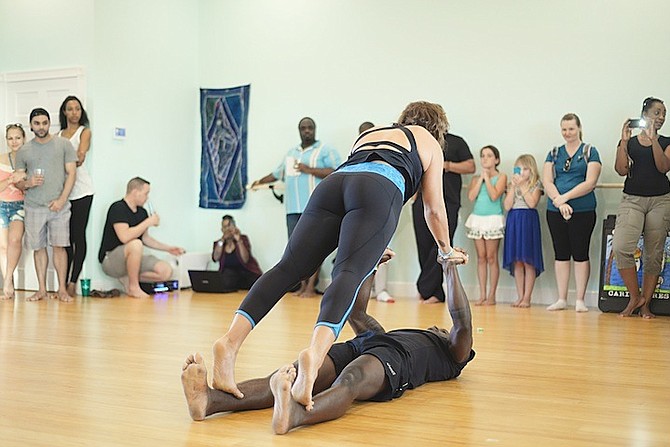 By ALESHA CADET
Tribune Features Reporter
acadet@tribunemedia.net
A fresh new team of yoga instructors are excited to open the doors to their new space, Studio Ohana, where Bahamians and visitors alike are welcome to experience fitness in a way they never thought possible.
Whether you are a new or seasoned yogi, the instructors are making it a mission to provide a comfortable, inspirational and encouraging space in the Shoppes of Cable Beach Plaza, where persons can learn and grow while having fun.
The Ohana family, dedicated to promoting wellness through yoga and alternative forms of fitness, include certified instructors Colleen Carey, Alexis Gross-Bethel, Channa Cius, Britni Knowles, Steven Truszkowski and Martyra Turnquest.
"As yogis and athletes, our journey has been about so much more than just yoga, and that's why we believe it's so important to offer a wide range of not only yoga classes, but other forms of fitness that add to your overall well-being," they said.
The services offered at Studio Ohana include yin yoga, yoga nidra, mediation classes, ashtanga classes, vinyasa classes, bikram fusion, antigravity and strength training classes such as running, cardio sculpt, high intensity interval training, jumping jacks, skip rope, TRX classes, ballet bar classes, hip hop dance, and more.
Colleen, the studio's owner, told Tribune Health that she was living in India when opportunity to open this venture presented itself.
"It must have been God and the universe working, because there was no work for this business occurring not even four months ago. My friend Ashley Brown, who was my first student ever, she mentioned a space that would be amazing for a yoga studio and this was just in August 2015. I said there is no way because I didn't have the funds into making a studio happen right now, and at this time I was in India so I didn't have the money to just hold the space," she said.
However, when Colleen travelled back home to the Bahamas she discovered the space was still available. She made the decision that if she was going to open a yoga studio, she would need a team. She then connected with Alexis Gross-Bethel.
"Alexis has so much knowledge in this field and it is just a great balance between us both. We are just such a great team and so open with each other, and that is why I brought her on board and it paid off," said Colleen.
As a health and lifestyle coach, Alexis said when it comes to yoga, people achieve a better energy and a greater awareness and connection with their bodies. Above all, she said the number one thing to always have when aspiring to live a healthy lifestyle is a support system.
"I worked with Colleen at Albany teaching yoga and we just really connected and got along. We have a similar mentality and style in terms of what we want to see for the Bahamas in yoga and how inclusive we want it to be. I was thrilled to be her partner. It's going to be much more than just yoga and fitness. It's going to be health and life coaching and therapy sessions that encompass what our journey has looked like thus far," said Alexis.
Colleen said once a person becomes comfortable with the movement and energy yoga provides, it becomes so much more. She enjoys watching people push themselves to the limit and doing things that they thought they could never do.
"Knowing that they are powerful and strong and that their bodies can take a lot, it is just fun to see people do it and enjoy it and love it. There is something empowering about it and that is the best way to describe it, the power you gain from being healthy and fit," said Colleen.
"I think the reason why I fell in love with yoga so much was because it brought a whole another element into the fitness side of things, and that is the finding calmness and peace while you are pushing yourself to the limit. If you can stay calm when you are doing something crazy like walking on your hands, doing a hand stand or pull ups, you can slow down your heart rate and push yourself even further."