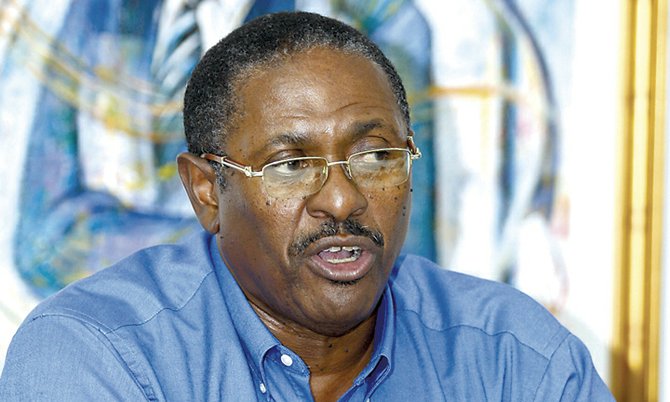 By RICARDO WELLS
Tribune Staff Reporter
rwells@tribunemedia.net
FREE National Movement Chairman Michael Pintard said the unsolicited criticism from PLP Chairman Bradley Roberts about the FNM's newly ratified candidates reflects the "old nasty style of politics" right-thinking Bahamians are moving away from.
Mr Pintard said that "toothless dinosaurs" such as Mr Roberts would be better served addressing national issues as opposed to commenting on FNM candidate choices.
Mr Pintard said the FNM remains "proud" of the men and women who have offered to represent the party in the upcoming general election – persons he labelled as "credible".
In a statement on Monday, Mr Roberts characterised the FNM's selections as a disparate group of individuals whose singular qualification must have been their "blind allegiance" to FNM Leader Dr Hubert Minnis.
He added that Dr Minnis' selection of "hapless, perennial losers and visionless personalities" gave the impression that he rummaged through former Prime Minister Hubert Ingraham's "political junkyard or graveyard" to salvage what he termed a "political scrap gang."
Firing back, Mr Pintard said: "(Bradley Roberts) should use what's left of his voice to speak on behalf of the hundreds of families who have lost loved ones to murder. He should advocate for intervention programmes for families ripped apart by drugs, including alcohol.
"He should bark on behalf of women who are in fear because of the frequent robberies and rapes in our community. Roberts and the prime minister, for whom he speaks, should raise their voice to lay out a clear plan that would reduce the power bills of struggling Bahamians."
Mr Pintard said the Christie administration has stumbled from scandal to controversy, failing to achieve the vast majority of initiatives they promised prior to the last general election.
The senator said the FNM has sought to ratify candidates with an understanding of the complex challenges the nation now faces and the ability to adequately address them.
He noted that the party's candidate in South Beach – Howard Johnson – is a doctoral student and conflict resolution expert who is viewed as an inspirational leader by many of his peers.
He said Dr Duane Sands, the party's candidate for Elizabeth, would not use the people of that constituency as a "stepping-stone to securing himself personally."
Of the FNM's Southern Shores candidate Frankie Campbell, Mr Pintard noted the former law enforcement officer and diplomat is suitably qualified to work with other stakeholders to effectively implement the FNM's comprehensive crime plans.
Mr Pintard said the other candidates are all prepared to win their seats and oust the governing PLP.
Last Thursday the FNM ratified eight candidates: Mr Johnson - South Beach; Mr Campbell - Southern Shores; Zendal Forbes - South and Central Andros; Shonel Ferguson –Fox Hill; Halston Moultrie - Nassau Village; Leonard Sands - Bain and Grants Town; Dr Sands – Elizabeth and Don Saunders -Tall Pines.