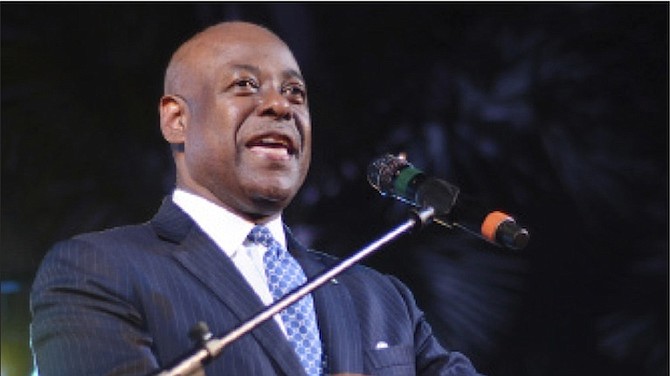 By RASHAD ROLLE
Tribune Staff Reporter
rrolle@tribunemedia.net
MINISTER of Tourism Obie Wilchcombe has said the country needs to tighten its borders in an effort to clamp down on the proliferation of gun smuggling from the United States.
As gun control takes centre stage in political debates in the United States, Bahamian officials are watching with a keen eye, hoping action will be taken that could alleviate the longstanding problem of gun trafficking in this country.

Asked about the matter yesterday, Attorney General Allyson Maynard-Gibson told The Tribune to direct questions about it to National Security Minister Dr Bernard Nottage and Police Commissioner Ellison Greenslade.
Dr Nottage is having discussions with US diplomats and the Federal Bureau of Investigations (FBI) about crime and the country's gang problem, Prime Minister Perry Christie said last week.
He is also expected to raise the issue of gun violence and what could be done to stop it, Mr Wilchcombe said yesterday.
"We need to have in place a comprehensive programme to deal with the guns," Mr Wilchcombe said yesterday. "The president of the United States last week spoke about guns. He said there (were) 30 million guns purchased last year or somewhere around there. The truth is there are so many guns on the streets of the USA. We don't make guns. If he's talking about a proliferation of guns in America, people making guns, selling guns, what is he saying? What he's saying in my view is that it can influence what happens in countries in close proximity.
"We should understand that we are being influenced by that and we should tighten our borders, whether it's our port of entries or our marinas, wherever we encounter that, from Inagua to Bimini we have to ensure we have tighter control. According to Dr Nottage, conversations are continuing. We've always worked with the USA with the drug issue but this one in particular provides a challenge because of the fact that in the USA licensed guns are legal. They're not in the Bahamas so what happens is, what do you do? We have to find the right mechanism and paradigm so they could help us to solve the proliferation of guns to our countries – but we have to face the reality, guns come from the USA and Venezuela. Let's stop the killing and the way to stop the killing is to stop the weapons that are being used and the way to do that is through guns."
According to statistics released by the Royal Bahamas Police Force last year, police took 400 illegal firearms off the streets – mostly from New Providence – in 2014.
Data from the US Bureau of Alcohol, Tobacco, Firearms, and Explosives (ATF) showed 97.9 per cent of firearms recovered by local authorities in 2014 were purchased or acquired in the United States.
For years Bahamian officials have raised concern about the matter with their US counterparts, with Mr Christie talking directly to former US Secretary of State Hillary Clinton about the issue not long after his administration won the general election in 2012.
However, as last year's record breaking homicide count showed, the government's efforts to forge a cooperation with the US that would solve problem has made no demonstrable progress.
And in a sign of how important he views the issue, Commissioner Greenslade posted at least five images of guns officers have confiscated from around New Providence on his Twitter page in just the last week.
He also posted a photo last week of himself surrounded by 12 senior members of his team as they huddled around watching US President Barack Obama address his country on the executive actions he took to tighten rules for those selling guns.
Beyond the issue of whether the US will ever enforce stiffer gun laws is the question of whether the prevailing gun control proposals can do anything to curb the problem of gun trafficking from the US to the Caribbean and Latin American region.
Background checks are the centrepiece of gun control proposals in America, but according to reports, there are already more than 300 million guns in the possession of persons in that country.