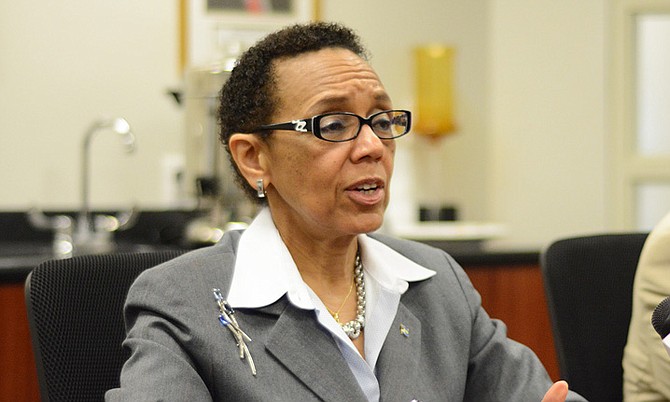 By LAMECH JOHNSON
Tribune Staff Reporter
ljohnson@tribunemedia.net
ATTORNEY General Allyson Maynard-Gibson, QC, yesterday urged the judiciary to be more hesitant to grant bail in cases of murder and other serious offences.
Addressing the 2016 Legal Year opening ceremony held in the Supreme Court, she stressed to Chief Justice Sir Hartman Longley that "concerns remain in relation to persons released on bail having been charged with serious offences, including murder."
"We urge the courts to adopt a hands on approach to bail so that persons charged with murder are not readily admitted to bail; recognise that frequently persons admitted to bail might themselves be murdered; ensure that repeat offenders are not admitted to bail; enforce the law by ensuring that persons act as suretor for only one person admitted to bail; and act promptly to revoke the bail of persons who violate bail conditions," she said.
Sir Hartman acknowledged public outcry on crime and that there was a perception of a revolving door on bail. However, the chief justice, like his predecessor Sir Michael Barnett, held firm that the granting and refusal of bail is a right entrusted to the judiciary alone by the Constitution.
The attorney general also suggested yesterday that the public should assist in dealing with the issue of bail.
"One of the ways citizens can play an active crime fighting role is to report when persons are violating bail conditions," she noted.
"As well as reporting online persons who have been admitted to bail, I have asked that we report the conditions of the bail. If any citizen suspects that those conditions are being violated, they will be able to call a Crime Tipsters anonymous hotline so that, upon investigation by the police, that person's bail can be revoked."
"And, I have called for an amendment to the Bail Act making violation of bail conditions a strict liability offence punishable by a term of imprisonment," Mrs Maynard-Gibson said.
A week ago, Court of Appeal judges ruled that a contractor's continued detention ahead of his murder trial is in the best interest of protecting public safety and the contractor's own life from vigilantism.
The appellate court had upheld a Supreme Court judge's decision a day earlier to refuse bail for Dwayne Heastie, 39, moments after prosecutors fast-tracked the case of the accused and his brother, Samuel Heastie, 36, to Supreme Court for the September 18, 2015 fatal shooting of Jean Richmond.
The court found that the judge hearing the case could not be faulted for considering the need to protect the safety of the public and public order as he did so in accordance with the Bail Act.