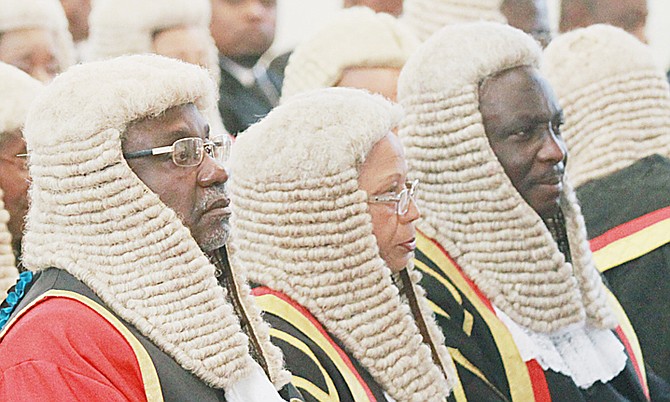 By LAMECH JOHNSON
Tribune Staff Reporter
ljohnson@tribunemedia.net
JURY trials should be abolished or restricted to criminal cases where the potential for the imposition of the death penalty arises, Chief Justice Sir Hartman Longley said yesterday.
During his remarks at the 2016 Legal Year Opening Ceremony held in the Supreme Court, the chief justice expressed grave concern with jury candidates and the ability to comprehend their role in the justice system.
He said a "more fundamental reform needs to occur" if stakeholders want criminal matters heard quickly, "in addition to removing a large number of cases through nolle or otherwise."
The present jury system, he noted, lacks accountability and proper vetting of jurors on whether they comprehend the directions and instructions of judges regarding the law in criminal cases.
"No one who has ever been convicted or acquitted by a jury knows the periphery reason why he or she was convicted or acquitted. There's simply no accountability."
"Even if the judge gets it right, we have no way of knowing if the jury truly understood the instructions and indeed got it right. It is only an assumption," the chief justice added.
He also said given the country's "hush-hush level" of the national grade average, there is cause for concern for the future of the jury system.
"I recently went to a school where it was frightening to hear teachers complaining of having to teach Phonics and basic stuff to assist 10 and 11-year-olds that are normally taught by preschool teachers."
"These are surely to be our next level of jurors, a most frightening thought," the chief justice said.
In December 2011, former Chief Justice Sir Burton Hall, while speaking at a lecture series at the Harry C Moore Library hosted by the Eugene Dupuch Law School, recommended the Bahamas move away from a jury system, as it is "inefficient" and "costly".
Then Chief Justice Sir Michael Barnett dissented at the 2012 Legal Year Opening, arguing that as long as it remains a constitutional right, serving on a jury is a fundamental right in our society.
Court of Appeal president, Justice Dame Anita Allen at the time admitted that the jury system was not perfect but noted that bench trials were not without flaws notwithstanding they were less costly and more efficient.