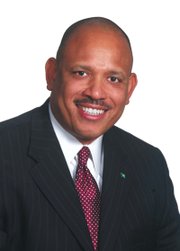 By NICO SCAVELLA
Tribune Staff Reporter
nscavella@tribunemedia.net
LOCAL physicians are growing "increasingly sour" over the government's handling of National Health Insurance and are still "just as much in the dark as the general public" over the scheme's implementation, cardiothoracic surgeon Dr Duane Sands said.
The former Free National Movement senator said with just four days before registration for NHI begins on January 18, doctors are still "no further along" in understanding NHI's intimate details, much less the specifics of their proposed transition into being "employees of the state".
Dr Sands also said he has not yet received a copy of the government's draft legislation for National Health Insurance (NHI), despite the government recently announcing that the document has already received Cabinet approval.
The government has said the draft legislation would be released to the public before the end of this month.
Dr Sands said he formally wrote to Chief Medical Officer Dr Glen Beneby and NHI Project Manager Dr Delon Brennen requesting a copy of the draft legislation, but to no avail.
"The physicians' sentiments (are) getting increasingly sour," Dr Sands said. "I think that the sentiment, certainly among specialist physicians, is becoming increasingly suspicious of the government's intention, and the specifics of what they intend to produce.
"We are no further along. We have no more information. There has been no signing on by physicians to this process. As a matter of fact, the date of the meeting with the government (and doctors) has been delayed until Saturday the 23rd. And so the physicians are just as much in the dark as the general public."
Consequently, Dr Sands said local physicians cannot conclusively say whether they will accept the government's proposition with regards to NHI, adding that the lack of information has made it "virtually impossible to speak (on the matter) except in general terms."
"So we don't know what we're going to do, because we don't know what's going to be presented," he said. "Imagine that you're talking about reforming the entire healthcare system, and five days before you plan on doing that, you have not shared that information with the primary stakeholders in the industry? Who does that?"
Dr Sands added that the primary concerns doctors have about NHI do not relate to salaries.
"I believe that the majority of physicians are most concerned about the quality of care that they deliver to their patients, and that the overwhelming majority of physicians in this country believe in an honest day's pay for an honest day's work."
NHI will be phased in over a five-year period, officials have said.
According to officials, the plan's primary healthcare package will be rolled out in April.