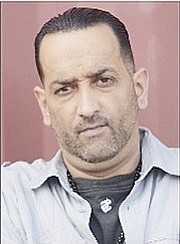 By NAUGHTY
naughty@tribunemedia.net
THREE out of four not too bad - that's what I get for picking the Redskins!
Thankfully all four teams in the NFC 'Least' are finally out of their misery.
Here's who I like in the divisional playoffs this week:
CHIEFS vs
PATRIOTS
Short and sweet: I called it in my Tuesday column.
The Chiefs haven't lost since their state baseball counterparts, the Royals, won the World Series. Eleven straight going on12.
The injury bug has hit the Patriots at the perfect time ... Gronkowski, Jones and a gimpy Tom Brady!
Yes, the Chief lost Pro Bowl wide receiver Jeremy Maclin to an ACL injury; however they have been in next man up mode all season. The Chiefs defence gets it done in this one I feel.
Alex Smith has been steady for the Chiefs at quarterback and earns a big win for his resume.
Also I would just love to see my broadcast colleague Ricardo Wells 'stew' for the remainder of the playoffs!
I don't recognise 'cheaters' so I'm going with the Chiefs in this one.
CHIEFS 24
PATRIOTS 23
STEELERS vs
BRONCOS
Revenge is a dish best served cold, and it's going to be cold in Denver!
I think the clock is about to strike midnight on 'Big Ben' and the very game and worthy Steelers.
Peyton leads the way in this one; if not his backup Brock Osweiler does.
Broncos at home led by the defence and an inspired Peyton Manning.
BRONCOS 27
STEELERS 24
SEAHAWKS vs
PANTHERS
Ah boy, this is a tough one. It's the Super Bowl if you love defensive football.
I've been rolling with Cam all season, plus he just had a son with an all-star name 'Chosen' born, so a Panthers victory comes with the territory as Cam continues to enjoy his best year ever!
PANTHERS 31
SEAHAWKS 24
PACKERS vs
CARDINALS
Again I've done well all year taking the Cardinals at home, so why change now.
CARDINALS 31
PACKERS 23
• Naughty presents 'Mischief and Mayhem in da AM' from 6am to 10am, Monday to Friday and 'The Press Box' sports talk show on Sunday from 10am to 1pm, on KISS FM 96.1. Comments and questions to naughty@tribunemedia.net