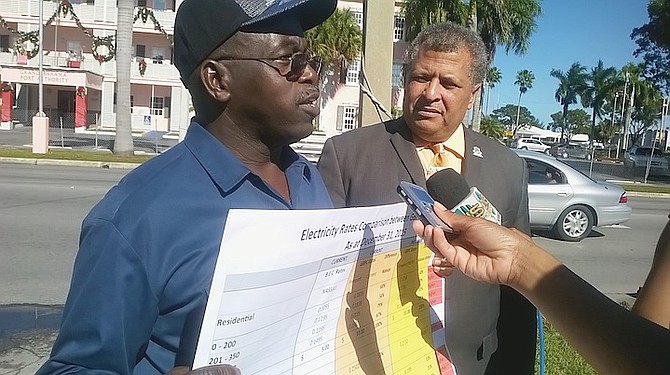 By DENISE MAYCOCK
Tribune Freeport Reporter
dmaycock@tribunemedia.net
COALITION of Concerned Citizens Convener Pastor Eddie Victor is accusing Grand Bahama Port Authority Co-chairman Sarah St George of not acting like a regulator, but more as a spokesperson for the Grand Bahama Power Company.
The utility provider has applied to the Grand Bahama Port Authority (GBPA) to increase its electricity base rates.
Pastor Victor said that despite the strong opposition from consumers on Grand Bahama concerning the rate increase, Ms St George, who is also the chairman of the Regulatory Committee, appears to be in support of approving the company's application.
Pastor Victor stated that Concerned Citizens Convener (CCC) has had three "good" meetings with the regulator of the Grand Bahama Port Authority, with a view to stopping the proposed increase in the electricity base rates and actually bringing about a decrease.
Mr Victor said from those meetings, it appeared that Ms St George was on the side of the power company.

According to the civic leader, the regulator should be calling for a decrease of the base rates due to the overwhelming opposition from businesses and residents.
He said it is the CCC's mission to present the facts about the proposed increases to the public.
He added: "The central truth to the whole matter is that since the submission of the rate application in August 2015, it is the intention of GBPC/Emera to increase the base rates of electricity for business, churches, schools, government offices, institutions, and residential electricity customers that use more than 350 kilowatts per month," he said.
Pastor Victor said when compared to the base rates of the Bahamas Electricity Corporation – which provides electricity to the rest of the country - the GBPC's tariff structure in every category is higher than the rate in Nassau.
He explained that the lowest rate in the residential category 0-200 kWh, in Nassau the base rate charged is .1095 cents per kWh, and in Grand Bahama the rate is .1839 cents per kWh.
Pastor Victor said that the GBPC's rate is 68 per cent higher than the rate charged in Nassau.
"For over three years the regulator has allowed our island to be overcharged in electricity rates. The fact is Grand Bahama is paying the highest electricity base rate in the Bahamas," he stressed.
"We are at the beginning of 2016, our economy needs stimulation and transformation. Grand Bahama it is time for our voices to be heard in a major way," he said.
Pastor Victor said that the Coalition of Concerned Citizens plans to hold a march today at 4 pm and hold a rally at KFC on The Mall.