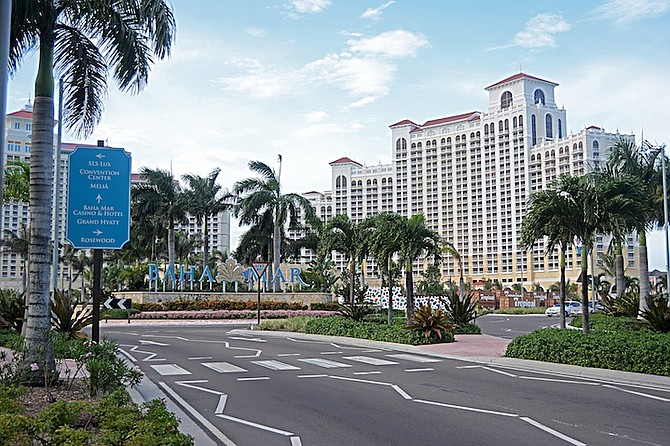 By SANCHESKA BROWN
Tribune Staff Reporter
sbrown@tribunemedia.net
PRIME Minister Perry Christie said yesterday there are a "huge number" of internationally recognisable corporate names interested in investing in Baha Mar and he is doing "all he can" to ensure construction is restarted "very soon".
Speaking at the swearing in ceremony of Paul Andrew Gomez as the new Bahamas ambassador to the People's Republic of China, Mr Christie said he has also been meeting with representatives from the China Export Import Bank, to ensure Bahamian employees and construction workers are protected.
Mr Christie said he fears if the project is not restarted in the near future, the cost to complete the hotel would double.
"I have been meeting with representatives of the employees, particularly casino employees who have had a number of meetings with me, whose employee benefits expire in two weeks time and therefore pending mortgage challenges are an issue. I have been meeting with the China Exim Bank to ensure employees are protected," Mr Christie said.
"There are a huge number of very internationally recognisable corporate names interested in the product, who have made applications for the product, those will be brought to your attention because it is for the bank to make a decision, including both hotel casino firms, and Bahamian interests that are here and including Chinese interest in the huge multi billion dollar project.
"It makes no sense to allow that asset to continue to be exposed to the elements and be subject to deterioration because what starts off as a $300m exercise will end up costing $600m or $700m and counting."
He added: "About two days ago I wrote a very strong letter to the president of the China Export Import Bank setting out the fact that a very significant number of world-class operators have gotten involved and made applications for the property to assist to put money into the property to bring it to a conclusion and an opening.
"These are big American companies. We have seen some of China's biggest companies themselves and they have indicated a preparedness to buy in to the development."
Reiterating comments he told the press weeks ago, he said: "So for The Bahamas we have a situation where the construction company has taken the position that it does not want to start construction without paying their subcontractors and that includes the Bahamian subcontractors. And I've argued that I'm not prepared to accept that those contractors will be paid less than a dollar for a dollar for the work performed. So I'm anticipating that 2016, very early in 2016 that we're going to have a major move for Baha Mar."
In December, Mr Christie told reporters he expects Baha Mar to be completed early this year, although he did not give a specific date for the restart of construction at the resort or when the property might open.
Baha Mar filed for bankruptcy on June 29 in the United States, however the cases for the resort's Bahamian companies were later thrown out of court.
In October, the Supreme Court approved the EXIM Bank's request to have the property placed into receivership.