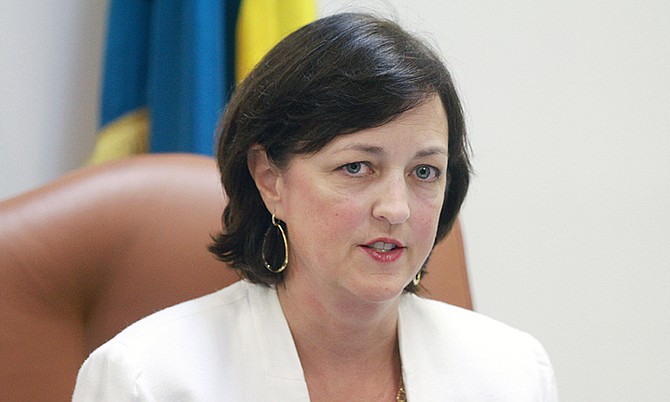 By RASHAD ROLLE
Tribune Staff Reporter
rolle@tribunemedia.net
DESPITE persistent complaints from American officials over the past few years the watersports industry in The Bahamas has not been properly regulated, US Chargé d'Affaires Lisa Johnson told the press yesterday.
She discussed instances where minors have allegedly been sexually assaulted and cruise line officials have complained to the American Embassy about passengers being harassed by people selling drugs at local beaches.
She added that the US Embassy in Nassau has repeatedly raised concerns about oversight issues with the government.
As for an alleged incident of rape at Cabbage Beach that occurred earlier this month and prompted a US advisory on the matter, Ms Johnson said it did not matter if the suspect was a lone Jet Ski driver or a worker in the industry. She said his lack of official affiliation may be even worse because it exposes gaps in licensing and oversight.
In a rare press conference yesterday, Ms Johnson stressed the strong ties between the government, the United States and the many areas of bilateral cooperation between the two on issues like crime, education and employment.
And yet she was frank when defending the US Embassy's decision to issue an advisory to Americans living or travelling here, recommending they not patronise Jet Ski operators in this country.
In the wake of the alleged attack and the advisory, Transport and Aviation Minister Glenys Hanna Martin has pledged to tighten security in the industry.
"It's an issue that's been building up over time over a number of years," Ms Johnson said.
"It was not a single incident. I arrived here at the end of June 2014 and in my very first month here I had to deal with two cases of American minors, 14-year-old girls, who had been sexually assaulted, one by four men riding on the back of Jet Skis. So this was an issue even back then. I had many discussions at the time with various members of the Bahamian government. Everyone expressed concern, but not a lot in our view was done. We did put out a message about the Jet Ski industry, a caution, a year ago.
"Since then it's been quiet and I have been sort of knocking on wood. In the meantime things have not stopped. The sexual assaults are the pinnacle of the problem but it's not the only problem. We've had two sexual assaults in the last 30 days but what we've also had are cruise lines that have come to the US Embassy and said that they are concerned that their citizens and guests are feeling that they are harassed on the beach, that they are approached very aggressively, that they are offered drugs and their clients just don't like it.
"I just don't think at the moment this industry is being licensed and ran and enforced in a way that is putting the best foot forward for the Bahamas and my job is to keep American citizens safe. We'll continue working with the government. I've seen some of the steps that have been announced by the minister of transport and aviation on the enforcement side.
"I . . . will be talking with the commissioner of police about subsequently taking on the licensing issues. I want to be sure that people who have been arrested, for instance, for dealing drugs or in sexual assault cases are not back on the beach."
She said there's no reason the watercraft industry can't be as successful as other areas of tourism, like snorkelling and sailing excursions.
"I'm happy to see Jet Ski operators taking a direct interest in protecting their livelihood," she said. "There needs to be a little more focus and attention, also focus to customer safety to be on par with snorkelling and other services offered."
The Jet Ski controversy exploded into the spotlight recently after police said an American woman on Cabbage Beach was allegedly raped by a man operating a Jet Ski on January 2. A suspect has since been arraigned in connection with this allegation.
In December 2015, police arrested a Jet Ski operator in connection with an alleged sexual assault of a female visitor.
That incident also happened at Cabbage Beach.
Mrs Hanna-Martin has since announced changes to the industry, including Royal Bahamas Defence Force officers routinely patrolling beaches.
She has also stressed that the suspect in this month's alleged attack was not a licensed Jet Ski operator.
Asked if this fact mattered to the US, Ms Johnson said: "It actually was irrelevant. In a way it's worse that he's not licensed because it means there can be people out there doing bad things. It means the enforcement and licensing system isn't working necessarily as it should. But it wouldn't have had any impact on the advisory. The goal for us is not protecting the industry it's keeping the American citizens safe."