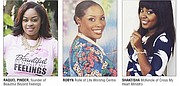 By ALESHA CADET
Tribune Features Reporter
acadet@tribunemedia.net
SINCE its 2014 launch, the Beauty Beyond Feelings organisation has hosted two successful empowerment events for women, and now they are back with the third annual session under the theme "I Am Enough".
The seminar will be held this Saturday and is part of BBF's ongoing mission to uplift and motivate women to be their best selves.
This weekend's event will feature three special speakers, namely Life Worship Centre's Robyn Rolle, Cross My Heart Ministry's Shakeisha McKenzie and former Miss Gospel Bahamas Lavette Smith. Guests are also being asked to donate canned goods at the event for distribution to Great Commission Ministries. Those donating will be in the drawing to win a gift certificate courtesy of Colombian Emeralds.
BBF founder Raquel Pinder said the series of seminars has been doing extremely well, through the grace of God.
Ms Pinder, who is also the owner of her own hairstyling company called Styles By Kelly P, hosts the event each year, inviting Bahamian women to always remember that their true beauty lies within them.
"I feel so blessed. I thank God daily for trusting me with this vision. I feel more empowered and motivated by these women after each event. I was tired of seeing women go to events and leaving the same way they came, not applying anything to their lives. I wanted to share my story while creating an atmosphere for God to show up and move through the lives of the women that would attend," Ms Pinder told Tribune Woman.
She said the BBF organisation has evolved since its inception and it has been exciting to know that God is growing the movement here in the Bahamas as well as abroad.
Ms Pinder said they now additionally starting a unique T-shirt line called "I am beautiful beyond my feelings", through which the organisation will encourage education and charitable efforts.
Speaking on this year's "I Am Enough" theme, Ms Pinder said the inspiration stems from the scripture Solomon 4:7, which states that: "You are all together beautiful my love, there is no flaw in you."
She said there are so many women out there who feel like they are not good enough, and she is happy to be able to have some of them come together to declare that they are indeed more than enough.
"Each BBF event is important because women need transparency and truth. They need to know what they are dealing with. Women need to know that there are other women like themselves that are going through some of the same issues they are dealing with. They need to feel supported and contentment in self. They need to know and embrace who God says they are. The overall goal for this event is to draw women closer to God and win souls. I see BBF reaching nations," said Ms Pinder.