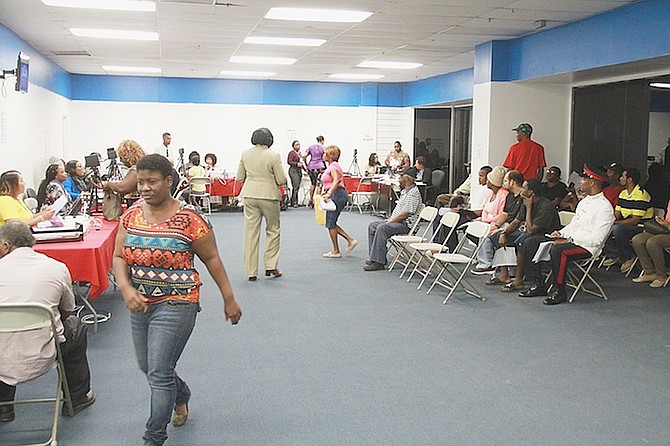 By NICO SCAVELLA
Tribune Staff Reporter
nscavella@tribunemedia.net
NATIONAL Insurance and Labour Minister Shane Gibson yesterday slammed Free National Movement Leader Dr Hubert Minnis for recently suggesting that the government's National Health Insurance scheme may be ineffective without a catastrophic care package.
Mr Gibson said Dr Minnis' comments were the "greatest degree of hypocrisy ever in the history of The Bahamas".
He added that the government plans to create a "special fund" to assist individuals suffering from illnesses "beyond what primary healthcare would provide".
The Christie administration plans to roll out a primary healthcare package for NHI in April and a vital healthcare benefits package sometime within the next year.
The government has said that there will be a catastrophic fund for people who are particularly sick and need a greater level of care. However, while the details of these plans have not yet been fully explained, the particulars of how the government will address the catastrophic care provision are even less clear.
Dr Minnis, in an interview with The Tribune last month, reiterated that a NHI scheme that does not provide catastrophic care will not help Bahamians in the way they need it most.
Dr Minnis said rather than focus on primary healthcare, the government should review its proposed NHI scheme, make a determination "about which diseases are having the greatest impact and causing the most problems" and subsequently have that grouping covered under NHI.
"When I saw Dr Minnis' comments, I thought it was the greatest degree of hypocrisy ever in the history of The Bahamas," Mr Gibson told reporters yesterday. "He introduced the Prescription Drug Plan as a platform to National Health Insurance. He said that was their first phase. Well we're now introducing primary healthcare, and he said unless we're able to introduce the catastrophic care package then we shouldn't introduce it."
Mr Gibson was referring to Dr Minnis' tenure as minister of health under the former Ingraham administration, when he oversaw the introduction of the National Prescription Drug Plan, which provides medication to people with certain non-communicable diseases free of charge.

"Well, it was fine for him to introduce the Prescription Drug Plan, but we shouldn't introduce primary healthcare which will actually help for you to identify and recognise illnesses at an earlier stage and help to create a healthier individual, so that perhaps some of those persons who would normally move on to the catastrophic level won't move on to it," Mr Gibson said.
He added: "The idea is to create a special fund where we are able to assist those individuals when you identify illnesses beyond what primary healthcare would provide for. And so the idea right now is to start primary healthcare, get it off the ground. Once we're able to tweak it then we'll move on to the next phase, and that phase may include a more comprehensive (catastrophic care package)."
According to a statement released by the NHI Secretariat on Sunday night, the plan will include five phases: registration; enrolment; primary health care coverage; select catastrophic coverage and full benefits coverage.
According to the statement, primary coverage includes doctor visits, prevention services, diagnostics, and medication through a primary care provider.
"In this phase, all health costs for primary care services will be paid for by the government through general revenue collected by the Ministry of Finance (commonly referred to as the Consolidated Fund)," the statement added. "Full benefits, including catastrophic care for major illnesses, will be included in NHI as the programme progresses."
"While all legal residents in The Bahamas are entitled to care under NHI, those who currently pay for private health insurance can maintain their current policies if they so choose," the statement said. "However, it is possible that your insurance policy may change given that primary care services will be covered by the government through NHI. Additional health insurance you purchase could be a top-up to your NHI coverage.
"Enhanced capacity in the health sector will be realised because NHI beneficiaries will be allowed to choose providers from either the public or private sector."