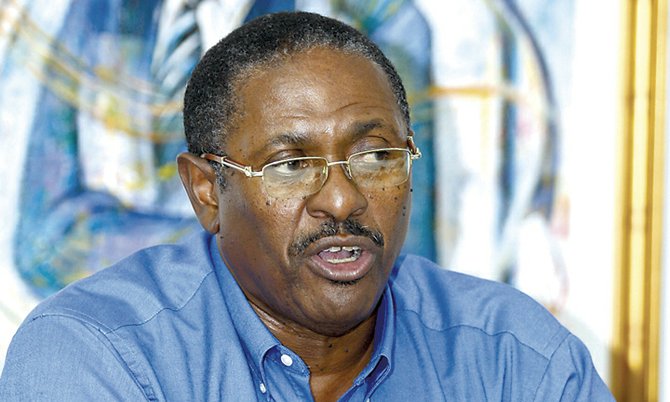 PROGRESSIVE Liberal Party Chairman Bradley Roberts launched a verbal assault against Free National Movement Leader Dr Hubert Minnis last night, saying he is still "woefully wanting" three years after assuming the post.
At a public meeting of the PLP's Bamboo Town branch at the CV Bethel Senior High School, Mr Roberts said the FNM is in a state of chaos with Dr Minnis unable to inspire confidence in members of his own party.
"A former Cabinet minister and senior party member was in the press no longer than today calling for an FNM convention this year to settle the party's leadership issues," Mr Roberts said, referring to former Minister of Foreign Affairs Brent Symonette.
"If Dr Minnis is unable to secure the confidence and support of his party to lead them, then how could the Bahamian people repose their confidence in him to lead this country at this critical juncture? There still remains reasonable doubt over Minnis' ability to inspire confidence and make right and sensible decisions in the best interest of The Bahamas."
He added: "While he (Dr Minnis) struggles with self-doubt and infighting, your PLP is going full speed ahead with its aggressive reform and transformational agenda of governance. We are implementing National Health Insurance because it is the right and just decision for our people and it secures the future health and prosperity of our nation."
Mr Roberts also bashed the area's current MP, Renward Wells, saying he "squandered his opportunity" and "betrayed" the trust of his constituents when he quit the PLP last year to join the FNM for "self-interests".
"To this unfortunate turn of events, I simply say this: Jesus chose as much as 40 disciples and when the field was narrowed down to 12, there was still a Judas and a doubting Thomas in the midst," Mr Roberts said. "I do not know what the FNM promised Mr Wells, but if Jesus himself, spotless and blameless as He was, could be betrayed and sold out for 40 pieces of silver and a fatal kiss, how much more vulnerable and susceptible are we as mere mortal men and women?"
"From what I have been hearing and seeing of current chaotic events within the Free National Movement, sources from within and without are suggesting that MPs Renward Wells and Andre Rollins have gone from the party which gave them political life to the confused state of affairs which is that of the FNM. It is said to be highly likely that both will go down in the fiery flames of that party."
Mr Roberts then claimed he heard that Long Island MP Loretta Butler-Turner "has told her camp within the Free National Movement that when she becomes leader of the FNM, she will not support the nominations" of Mr Wells and Dr Rollins.
Mrs Butler-Turner, the party's former deputy leader, lost her bid in 2014 to unseat Dr Minnis as leader. Despite her loss, many speculate that she will challenge him again if the party holds a convention before the next election.