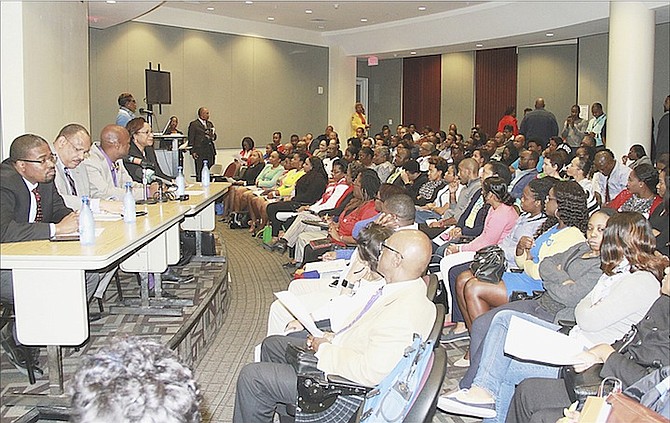 By KHRISNA VIRGIL
Tribune Staff Reporter
kvirgil@tribunemedia.net
LEADING surgeon Dr Duane Sands last night made a startling revelation that once the machinery of National Health Insurance is fully in motion, patients will likely face significant wait times as they seek medical attention in respective facilities, while he predicted "chaotic times" should the government move forward with its proposed healthcare scheme.
According to Dr Sands, under NHI a concept called patient centre medical homes is expected to be utilised and stipulates that for every two doctors operating at a facility, up to 5,000 patients can be registered who are not allowed to change physicians until one year has elapsed.
Dr Sands explained that when equity and accessibility are factored in under the new patient centre medical home model, "there will be significant waiting time for primary health care." He further suggested that this could affect the quality of service to patients. This will be paid for by the government at a capitated rate of $212 per patient each year, which equates to around $1m.
However, Dr Sands suggested that this creates a financial challenge as this sum would have to be spread thinly across the operations of the facility, salaries of the medical staff and to finance the medical needs of each patient.
The outpatient primary care benefits, according to NHI draft legislation obtained by The Tribune, will consist of the services of health care providers, diagnostic, laboratory and other medical services, personal preventative services, prescription drugs and biological and health education.
President of the Medical Association of the Bahamas Dr Wesley Francis said last night this "cut and paste" approach is a point of great contention between Bahamian physicians and the government as the criteria for the model was not practical.
However, Dr Delon Brennen, NHI's project manager said the proposed criteria for the patient centre medical homes was a work in progress.
In the primary care phase of NHI, the projected cost for it is estimated at just over $100 million for the first of the services to be delivered, Dr Brennen said.
As it stands the government currently spends around $400 million providing healthcare to the citizens of the Bahamas. When private sector spending is factored in, nearly $800 million is spent.
The doctors, with President of the Bahamas Insurance Brokers Association Felicia Knowles, were the panelists at a Bahamas Pan-Hellenic Council NHI town hall meeting in the Harry C Moore Library of the College of the Bahamas. It saw scores of curious Bahamians packed into the room who fielded questions about NHI.
"That patient centred medical home will then be responsible for the maintenance and preventative care for those patients that are signed up for one year. So if you sign up with a patient centred medical home you cannot change physicians except at the anniversary of your enrolment," Dr Sands explained.
"When you go to see the doctor for out patient services like high blood pressure diabetes, etc, you go into the doctor and if the patient centred medical home is a part of NHI you will be seen, you will be examined and so on and so forth. But there is no payment due. If that physician determines that you require certain covered blood work or basic x-ray studies or basic lab tests they will not only be done, but they will be paid for by the practice."
He continued: "Now the challenge is if you have 5,000 patients in a practice with two doctors and you look at the number of visits from 8am to 5pm, five days a week it basically works out to three 15 minute visits per patient per year. Now the assumption is that if you look at the number of visits that people actually have now it's only about 1.7 visits per person per year.
"The issue, however, is these are doctors that are going to be churning patients out left right and centre. In the patient centred home you also have nurses and an administrator.
"The government proposes that in exchange for this service that they will pay these patient centred medical homes on the basis of a capitated rate, which means that for every patient in your practice the doctor at the practice will get $212 per year.
"Now that sounds like a lot of money. You do the arithmetic 5,000 times $212 is a million dollars. There are many doctors in this town who have never seen that kind of money so they are dangling this carrot as if it is big money.
"The reality is that that includes payment for the doctors, payment for the nurses, payment for the administrator, payment for the lab tests, payment for your records, etc. Now the question is given the fact that this is going to go live in April and you don't have any regulatory framework what is going to happen?"
In response, Dr Francis said the medical home concept is something that the physician community has "real difficulty" with.
"About 90 per cent of qualified general practice specialists would not qualify for that and this is why it is a big contention. We have to understand what quality is about and that is one of the issues that the association has because you have to define what quality care is about. This concept has its benefits but it's coming from more resource rich countries. It is a cut and paste approach, but it is not practical."
The Christie administration plans to roll out a primary healthcare package for NHI in April and a vital healthcare benefits package sometime within the next year.