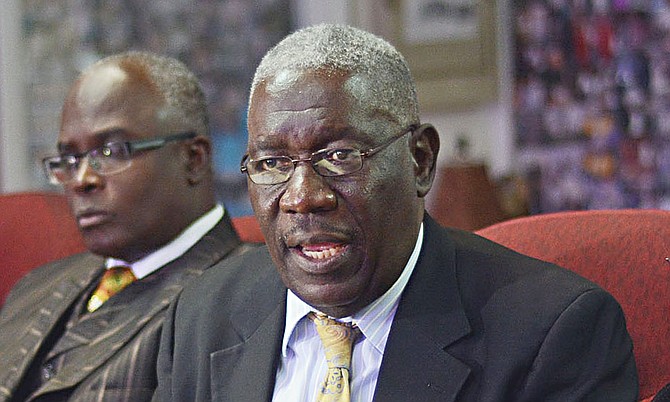 By NICO SCAVELLA
Tribune Staff Reporter
nscavella@tribunemedia.net
BISHOP Simeon Hall yesterday said while the Christie administration should "at least listen to credible critics" of National Health Insurance, it should not "wait on insurance companies to lead the fight" in providing universal healthcare for Bahamians.
Bishop Hall, pastor emeritus of New Covenant Baptist Church, said while the government should be "held accountable" for being "slow" on providing information, it must not "wait on people with vested interest to lead the way" in NHI's administration.
He said the government has a fundamental obligation to ensure that "poor people" and Bahamians in general are afforded universal healthcare.
Bishop Hall's comments came two days after the Bahamas Insurance Association (BIA) said their limited involvement in NHI discussions is the "worst experience" that the association has had "with any sitting government in an independent Bahamas."
The BIA said its concerns over NHI's administration have been "dismissed or ignored in totality by the current administration," adding that the association is appalled that the insurance industry "has been treated in such a manner by the government".
On Sunday, the Consultant Physician Staff Association (CPSA) warned that it would not sign onto NHI unless the government is willing to "respect our input into the whole system".
The Christie administration, in response, has portrayed its critics as "greedy," adding that it will not allow any one person and/or group to hold it "hostage" over NHI.
"If they are persons who have something to say, government should listen to them," Bishop Hall said yesterday. "But government as I see it, cannot wait on people with vested interest to lead the way. The protection, the granting of health, the coverage of health for Bahamians must be led by the government of The Bahamas. They are responsible for seeing that we get it.
"You cannot wait for insurance companies to give coverage to people who can't pay for it, and that's how I see it."
Bishop Hall added: "Poor people need coverage, and it must be so, because again, President (Barack) Obama has given to America the opportunity for healthcare. We have copied America in almost everything else they do, we should copy them with this. Now we should hold our government accountable to ... give information. Government is sometimes slow with information. It should give the information, but you cannot wait for the insurance companies to lead the fight in national coverage for Bahamian people."
On Monday, National Insurance and Labour Minister Shane Gibson accused the CPSA of being more interested in "making the mighty dollar" than saving lives. Mr Gibson, the minister with responsibility for NHI's registration campaign, suggested that the CPSA and other NHI critics have resorted to adopting an attitude of "if I can't have it my way, then I'm going to tell the public I'm not a part of the process."
Still, Mr Gibson said the CPSA's position will not deter the government from conducting the NHI rollout, adding that the Christie administration will not allow any one person or group to hold it "hostage" over NHI.
NHI will be phased in over a five-year period, the government has said. The Christie administration plans to roll out a primary healthcare package for NHI in April and a vital healthcare benefits package sometime within the next year.