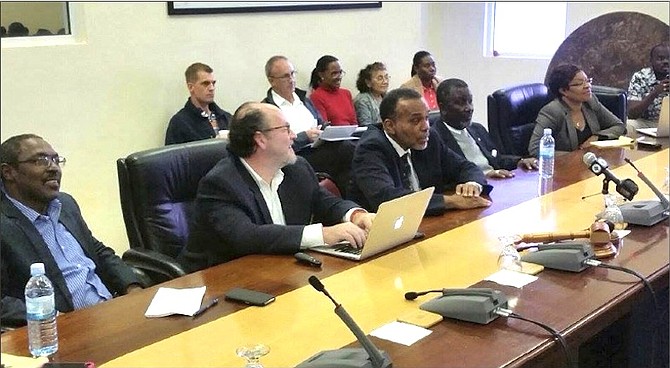 By SANCHESKA BROWN
Tribune Staff Reporter
sbrown@tribunemedia.net
CHIEF Medical Officer Dr Glenn Beneby urged medical professionals on Saturday to be "sensible and careful" when it comes to National Health Insurance and not "criticise the government without providing a solution".
Addressing private and public sector physicians and healthcare professionals at a one-day National Health Insurance workshop at the Paul Farquharson Conference Centre at police headquarters, Dr Beneby also advised the physicians not to "play politics with Bahamians' lives".
His comments came after representatives from the Medical Association of the Bahamas (MAB), the Grand Bahama Medical and Dental Association (GBMDA), the Bahamas Doctors Union (BDU), the Consultant Physician Staff Association (CPSA) and the Bahamas Association of Family Practitioners (BAFP) on Thursday said they would not support the government's proposed scheme.
The doctors said distrust of the government and a lack of consultation are chief sources of their concerns.
"When it comes to health - red and yellow, black and white - all get sick. So let us keep our head on, be sensible and careful and do what is right. The director of PAHO (Pan American Health Organisation) said it so well, this is the right thing to do. It is the smart thing to do, so don't get mix up. Do the right things," Dr Beneby said.
"Professional politics is something else you have to deal with, everybody has their own agenda, but let us be objective. No one else other than medical professionals, no one else but you can help us in what we have to do. But you must not only be critical and negative, you must be critical and positive. You must not only point out what is wrong, you must tell us what is the resolution to correct the problem because we work in this environment and you know the answers so do not just criticise us, encourage us with some solutions."
Dr Beneby said despite the recent criticism, he was "pleased and encouraged" by the number of physicians that turned out for the workshop.
"The main purpose of this is to update the medical professionals, the doctors and the nurses and the healthcare providers of what we are doing in preparation for NHI. I am pleased with the number of physicians that came out. It shows they are interested and I anticipate some progress. The plan is to take account of all of their concerns and explain to them what is reasonable for the government to do," Dr Beneby said.
"I have not met one physician who said they don't agree with universal healthcare, we just have to come together and get over the things that separate us. We have some areas of challenge but we welcome positive input."
Recently, the Bahamas Doctors Union said it wants the government to slowly implement NHI over a period of five to 10 years.
The BDU, which represents the largest and most diverse group of doctors in the country, released its statement expressing concerns over the government's handling of NHI last week.
It called for the initial phase of NHI to feature infrastructure improvements, administrative and system development, education of healthcare workers on the initiatives, goals, and presumed outcomes of NHI and further research in healthcare related to fields to create a plan in the context of this country and culture.
The BDU also called for the government to remove taxes on medial equipment, technology, medication, insurance and healthcare.