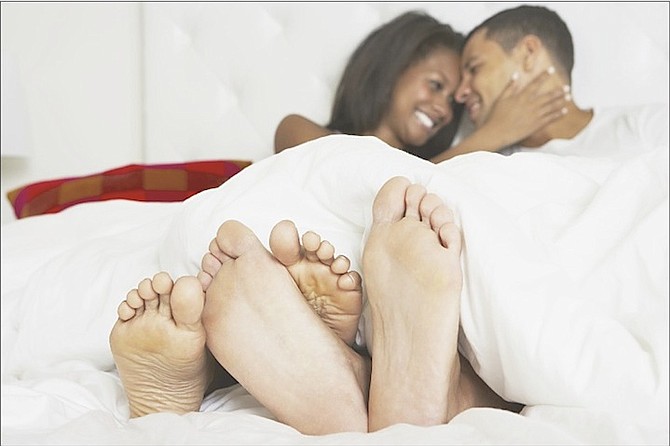 By LAKINDES BROWN
So you're married and happy, but what about sexy? There's no reason for those sexy undies to go to waste just because you've got a ring on your finger.
Just because you're a wife it doesn't mean you should lose that "je ne sais quoi" that got your hubby hooked from the first date.
Couples grow together, and sometimes that means there's little left to the imagination, but it doesn't have to be that way. Women are fabulous whether they have a rock on their finger or not. So why is it that these fabulous, confident women suddenly feel like old news after they get married?
The Marriage Bed is a company that is working towards answering this very same question. It is the brainchild of Anishka Culmer, who is joined by her husband Phil Culmer and a team of individuals who are dedicated to the cause of building lasting relationships. The Marriage Bed takes a unique approach to stimulating intimacy in and out of the bedroom.
Given that so many couples struggle to keep the flame alive in their relationships, The Marriage Bed has these tips:
• Have a date night
More often than not,we tend to get caught up in the daily routine of life and forget that we have daily duties to perform as wives. Surprise your husband with a simple date night. This might seem like a lame "mom" thing to do, but don't be fooled, this strategy is great for newlyweds and veteran marriages alike. Life is hectic, and between jobs, family, friends and possibly children, there's sometimes little time to connect with your partner and just "be" together. Date night doesn't have to always be about sex. Date night is about spending time together as a couple. Instead of worrying about which naughty lingerie to put on for the night, try something a bit more sentimental, like re-creating your first romantic date together.
• Be in the mood
Allow yourself to be in the mood for your hubby. How many times did you say, "Not now honey" as newlyweds? Probably not too many! Back then the thought of being with your hubby was enough to snap you out of any funk. Just because you're a little tired and cranky doesn't mean your night can't become a lot more pleasurable. A night of passion can do wonders for your well-being and relationship.
• Keep sex interesting
One of the most important ways to remain a sexual goddess to your husband is to be a sexual goddess. A lifetime of love, understanding, laughter and comfort that can be found in a marriage is wonderful, but a lifetime of monogamy can be a challenge for most.
You and your partner are used to each other; you know all of the tricks to satisfying your each other, but after what feels like a lifetime together, it's usually the sex that starts to become stale.
Be a sexy wife and keep things interesting in the bedroom; skip the mundane and spice things up. Take a trip to The Marriage Bed and ask about their intimate occasions like The Love Den, The Love Nest or the Memory Float. Have him come home to a trail of rose petals and candles leading to a beautiful setup of romantic goodies and naughty activities for the evening. He'll appreciate the gesture.
• Get dressed up and lose the satin cap
Okay ladies, the work day is finally done and you head home to get the family routine started. As soon as you walk through the door you kick off your heels, throw on that old faithful – the comfortable house dress with the bleach stains – and reach for that proverbial staple of the house: the satin cap. I completely understand the need for comfort at home. But let's be honest, does being comfortable really mean we have to look like old maids? Not necessarily. Whether staying in or going out, a woman should always try to look good for her man. Ditch the sweatpants for something a little sexier one evening. Try serving dinner in some heels another evening, or simply meet your hubby at the door in a sexy trench coat with nothing on underneath. After a hard day's work, any man would be appreciative of his wife making an effort to have him come home to pure pleasure. It doesn't have to be every single day, but randomly doing things like this keeps him on his toes.
• Keep taking care of yourself
Just because you're married doesn't mean you should focus all your caring attention onto your spouse, kids and your home. With married mothers especially, juggling your children, your job and your husband can be quite the balancing act.
It's a fact that mothers spend more time on their children than they do on themselves. While it's important to get the little ones dressed and ready, don't forgo taking care of yourself. Keep up with your skin and hair care routines. Stay healthy through exercise and balanced diet, and don't be afraid to dress up once in a while and go all out.
• Have your own life
It's important that as a married couple you spend time together, but as an individual with your own wants and needs, it's just as important to maintain your social life away from your mate. This creates not only that important feeling of independence, but also conversation topics with your partner. If all you're doing is spending time together, you won't have many new things to talk about. Just because you're married doesn't mean you shouldn't be independent. And FYI ladies, independence is very sexy!
• Don't be a nagging wife
Sometimes we think saying the same thing over and over will motivate a person to do it. Well, ladies, you're painfully wrong! You're just plagued with 'nagging wife' syndrome. Try to slow down with telling your hubby what he is doing wrong and start telling him what he is doing right. A man wants to feel appreciated and not just be reminded that he didn't take the trash out last night. It's important that you go out of your way to show your love and appreciation. Showing your support and approval is key for a healthy marriage.
As women, we are looking for a partner who will love, cherish and respect us, so why is it so hard to think that a man is not looking for the same! As wives, we should try to be a little more appreciative and show our husband the woman he fell in love with. As cliché as it is, it's so true. Just because you've become a wife doesn't mean you should let yourself go. Continue showing your man how irreplaceable you are by asserting your independence, showing him you care, and continuing to rock his world in all areas of life.
• For more information about The Marriage Bed, contact info@marriagebedbahamas.com, call 242-433-5415 or visit The Marriage Bed website at www.marriagebedbahamas.com.