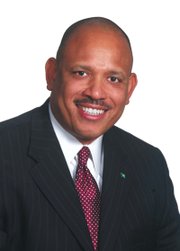 By SANCHESKA BROWN
Tribune Staff Reporter
sbrown@tribunemedia.net
LEADING surgeon Dr Duane Sands said the government "demonstrated good faith" by hosting a National Health Insurance workshop with medical professionals on Saturday, but he is "still not certain" if doctors' concerns have been adequately addressed.
Speaking with The Tribune, Dr Sands said medical professionals are willing to work with the government to ensure that Bahamians benefit from the initiative as long as there is a "compromise".
"The mood of the meeting was upbeat, positive and cooperative. My position has always been that we are prepared to work with the government as long as they are prepared to work with us. They have demonstrated good faith with these discussions and the day was productive. We now have to wait and see what comes out of the meeting and if what was formally proposed gets considered," Dr Sands said.
"Let's just say a dialogue took place in a mutually respectful fashion and we have to wait and see what the benefits will be to the most important stakeholder, the Bahamian public. Physicians want to make sure Bahamians benefit from this initiative. The entire physician body and all of the healthcare professionals in the Bahamas share the vision and the goal of improving the quality of healthcare in the country."
At the event, Minister of National Security Dr Bernard Nottage told medical professionals gathered that the government is "open and willing" to discussing NHI and making changes if necessary. However, Dr Sands said he would believe it when he sees it.
"I'm not really confident they will live up to that promise," Dr Sands said.
"The proof of the pudding is in the eating and while the tone has been set let's see what we are able to accomplish. I have tremendous respect for Minister Nottage and the prime minister and I don't doubt their sincerity and I would hope they don't doubt ours but the hard work, the devil is in the details and if we do not get this right our people will not benefit."
Last week, representatives from the Medical Association of the Bahamas (MAB), the Grand Bahama Medical and Dental Association (GBMDA), the Bahamas Doctors Union (BDU), the Consultant Physician Staff Association (CPSA) and the Bahamas Association of Family Practitioners (BAFP) said they would not support the government's proposed scheme.
The doctors said distrust of the government and a lack of consultation are chief sources of their concerns.