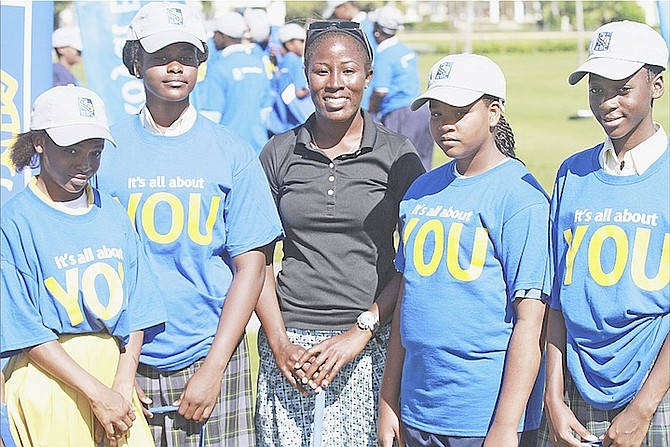 By BRENT STUBBS
Senior Sports Reporter
bstubbs@tribunemedia.net
About 46 students from 10 local government and private schools got a chance to mix and mingle with two of the top female golfers in the world yesterday in a LPGA Junior Clinic during the fourth annual Pure Silk Bahamas LPGA Golf Classic at the Ocean Club Golf Course.
The clinic, co-sponsored by the Royal Bank of Canada and the Ministry of Tourism, was facilitated by visiting golfers Brittany Lincicome and Kris Tamulis along with Bahamian pro Georgette Rolle.
A list of schools that participated were CH Reeves, Charles W Saunders, DW Davis, Dame Doris Johnson, Grace Christian School of Excellence, LW Young, Noble Preparatory Academy and Blairwood Academy. There were also a couple of students who came out of the home-schooling programme.
Natasha Wright, assistant manager of marketing at RBC Royal Bank, said she was pleased with what she saw from the instructors and participants. "They really had a great time. The students participated in putting competitions and our own Georgette Rolle was also out there showing them a few things as it pertains to golfing," Wright said. "They were able to participate and they engaged the female golfers in questioning. So it seemed like they had a really good time."
RBC and Royal Fidelity, according to Wright, have joined forces to sponsor the Pure Silk Golf Classic since its inception, but she said they are even more delighted to provide an avenue for the juniors to be able to interact with the touring pros during the clinic that is staged two days before the start of the classic.
"We have our own RBC Tournament so we are very well connected with the golfing community," she said. "We believe that golf builds character and we are excited to help the kids gain this exposure from the pros, especially our own Georgette Rolle. We want them to know that there are other opportunities outside of basketball and track and field. So we are excited to do this clinic and we will continue to do it for as long as we are allowed to do so."
The Ministry of Tourism also played a major role and Samantha Cartwright, who hails from the Students Cadet and School Unit, said she was delighted to have coordinated the students who came out and took part.
"We had students exposed to golf. That is not a sport that is available in the sports programme in the schools, so I think to have the students who are interested in the sport exposed to it was a great idea," Cartwright said. "We usually send an invitation out to the junior and senior high schools to bring students who have an interest in golf.
"This year, we had inquiries of persons who were interested from the primary schools and so we allowed them to come out as well. We actually even had Ashley Michelle from the Bahamas Golf Federation, a junior golfer who has been playing golf for three years."
With Rolle being one of the competitors in the classic this weekend, Cartwright said it sweetened the pot because the students got a chance to believe that they too can follow in her footsteps, once they get the exposure to their participation in the junior clinic yesterday.
Rycheed Ward, an 11-year-old home schooled student, said after working as a volunteer at the classic last year, when he heard about the junior clinic, he wanted to take advantage of the opportunity to learn a little more about the sport.
"It was very good," he said. "I learned how to putt a ball, but I was really hoping to get one in. I came very close, but I was glad that I got to do this."
Ward said after he got to meet some of the golfers last year and got autographs from them, he was hoping to take advantage of the clinic this year. He said he was glad he did because he got autographs on his hat from Lincicome and Tamulis, who both had their rookie year on the tour in 2005.
Lincicome has had six career victories, including two majors at the 2009 Kraft Nabisco Championship and the 2015 ANA Inspiration, while Tamulis is coming off her first career win at the Yokohama Tire LPGA Classic last year. The two Floridians are among the 120 golfers who are expected to participate in the classic at the Ocean Club this weekend.